Wednesday, 6 December 2023
USD400.39
EUR428.83
RUB4.24
Since June 1988, the Movement has been an alternative government. Levon Ter-Petrosyan on the Karabakh movement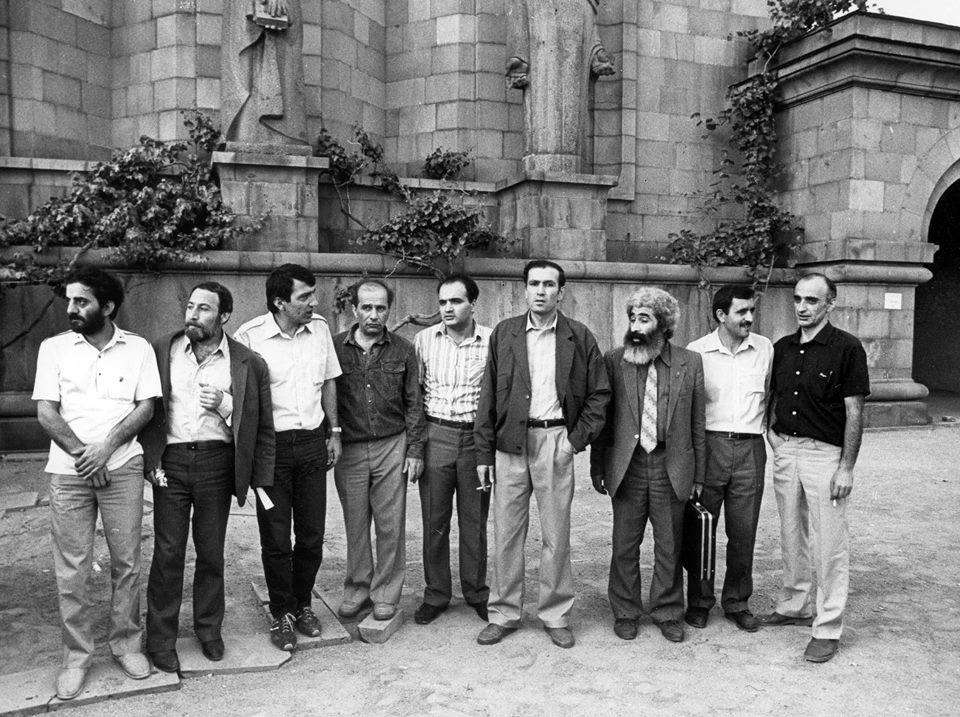 Radar Armenia presents interesting episodes about the beginning and progress of the Karabakh movement, which were told by Levon Ter-Petrosyan, the first president of RA, at a meeting with youth representatives on November 3, 2007.
"I'd like you to have a little insight into the first movement, right from the source, from one of its leaders.
When they say Armenian national movement, it doesn't mean party affiliation. It was a viral movement in which all sections of our society were included indiscriminately—even rank-and-file communists.
It seemed that we were fighting against the communist regime, but one of the most active sections of our movement was the rank-and-file communists. Do not be fooled by the Communist Party's ideology that it was the leading or governing body of the Soviet Union. No. Only the upper class of that party enjoyed all the benefits, and the rank-and-file communists only served as a cover for them.
Let me remember one fact. In June 1988, if I'm not mistaken, the 19th conference of the Communist Party was going to take place in Moscow, to which a petition signed by 40 thousand of rank-and-file communists of Armenia was sent on the initiative of the Karabakh Committee. The Armenian national movement organized the signature gathering at that time, the "Karabakh" committee. I remember there was no today's technology, there were no computers, we worked with old-fashioned methods, on old computers working on long stacks of paper, and the weight of 40,000 signatures was 38 kilograms. Silva Kaputikyan took that package to Moscow, of course, with the help of several people. Why am I giving this example? It was a truly national movement involving all classes, labor, and our true intelligentsia.
By real intelligentsia, I did not mean and still do not mean the nomenclature intelligentsia that has always served the regime. I mean the vast army of teachers, engineers, researchers, doctors, and artists. That was the core of that movement. Our peasantry seemed busy with land-related work in the summer. Still, the active, conscious mass of the peasantry participated in all the rallies organized in Yerevan's Freedom Square. And those who did not participate were informed one or two hours after the recovery. We always prepared special information leaflets, which reached the most distant regions of Armenia in two hours. And since sometimes there were rallies of half a million people, sometimes even a million people, it seemed that we were genius organizers. But it wasn't like that.
The "Karabakh" committee consisted of 11 people and about 300 active figures attached to it. This was already quite a large force, but it only coordinated and directed the movement. Many people had a high opinion of us; they thought we had a powerful organization and we could stop the entire republic from going on strike when we wanted. In three hours, we could organize a rally of 100,000 people in Freedom Square. Such a mechanism was created. Moreover, we did not make it; such a mechanism was formed elementally by informing the regions by telephones and cars. Within three hours, a hundred thousand people were always standing in Freedom Square.
We were calling for, say, a strike. The other day we received, I am not exaggerating, thousands of decisions from collectives. It was always like that; the archive exists and is preserved with sealed decisions. Entire collectives and huge factories stood on strike as one man. Since June 1988, the Movement was an alternative government with much more authority and solved more significant issues than the official authorities. If I tell you what kind of questions, you will be surprised. We had established a solid legal body where we received complaints from the public. Let's say a dispute over the fence with the neighbors, a fight between the daughter and mother-in-law. Whatever you say. There wasn't a question we didn't get. And I can assure you that 80-90 percent of these issues were resolved with the intervention of our respective departments. A special department was created for those who evaded the conscription of the Soviet army and those who sought to escape from the Soviet military, and Yerjanik Abgaryan headed it. Yes, we called for Armenian conscripts not to serve outside of Armenia. We believed that our young people should do in the army because, as later events showed, it was a necessary school, but one of our main demands was that the people of Armenia should serve only in Armenia. And those who managed to escape from Russia came on vacation but did not return, etc., we detained them. The Soviet army could not bring back any of them.
We also saw a massive school of folk creativity or initiative during the movement. Every time we, the "Karabakh" committee members, came to Freedom Square, and were surprised.
: We were imprisoned, and two months later, in February (the day of remembrance of the victims of Sumgait), under the conditions of emergency and curfew, those people organized the first demonstration to Tsitsernakaberd. Then the same thing happened on March 8, thanks to women. The Russians and the Soviet army respected that holiday; they could not interfere, and it became a mass demonstration. Why am I saying all this? This was the first information that reached me in prison from the outside world. Already at that time, in March, spying had begun in the Soviet center. The events of the election campaign of the Congress of People's Deputies were already underway. Sakharov, the Moscow democrats, were making progress. Espionage also started in the prosecutor's office; the Uzbek case was beginning to collapse. We felt these eavesdroppings, even from the attitude of my interrogator, a Kazakh by nationality, an intellectual with the surname Yerubaev. I have nothing to say about him; I have not seen any pressure from him—only the most respectful treatment from day one. But from March, I started to feel that he is slowly becoming a member of the "Karabakh" committee. He was already bringing me underground newspapers. He invited me for questioning, printed some things, made coffee, and gave me chocolate.
It wasn't Pravda, Izvestia, Moskovskiye Novosti, Argumenti I fact, and it took 4-5 hours to read. I was fully briefed and returned to the cell. I was often interrogated in Gdlyan's office. Gdlyan had his permanent office in "Matroskaya Tishina" prison, where he interrogated those detained in the Uzbek case. By the way, there was such an order. I could only meet the investigator; no one was allowed to enter the room during the interrogation except the prosecutor's office. And here, once, my investigator brought an Armenian boy named Simon to the private office. As it turned out, he was also an investigator from Kazakhstan or Uzbekistan in Gdlyan's group. That investigator first said that the boys in Yerevan had already started. There was a powerful demonstration on March 8; everything will be fine. I realized that everything was perfect. After Simon left, Yerubaev told me that Sakharov went to the prosecutor's office, did everything upside down, hired good lawyers (Sakharov chose our lawyers), came accompanied by foreign reporters, and your case is falling apart.
I am telling all this today to highlight the activities of the secret committee. Those guys kept the movement going in our absence, making it much more robust. When we were released on June 1 or May 31, the boys brought us to Matenadaran Square. From the first conversations, I saw we fell far behind them. I'm so sorry; as they say, the boys were eating their shit. And we, 11 members, agreed that we should only talk for a week. Only to meet with journalists for a week or make public speeches once we understand the situation. Indeed, the movement had progressed so far that if, say, in '88, the idea of independence seemed a distant thing, on that day, we saw that our entire nation was infected with that idea. If, in 1988, we were still convinced that it was possible to hold a dialogue with the communist authorities of Armenia, and we worked in that direction, we went to the Central Committee, were invited, various issues were resolved, we managed to avoid clashes and acute manifestations, now we saw that the movement is no longer reconciled, it does not want to talk to Suren Harutyunyan, to communicate with the Central Committee. The rupture was absolute, and it remained unrepaired. The watershed had already taken place.
So, I must say that if only 11 members of the "Karabakh" committee are known, those five, plus two, have as much merit as we do. But this is not all. This would not have happened if, as I said a little while ago, every Armenian did not feel part of the movement.
There were very few exceptions, and its document was the referendum of September 21, 1991, under which more than 98 percent of our people signed. In other words, everyone was here. And the democrats, the nationalists, and the communists. Ninety-eight percent cannot mean anything else. And it happened because everyone felt like a participant rather than a spectator. And my appeal to you should be this. When I came to Freedom Square on October 26, I thought we were together and one, and if this feeling is transferred to you, I think our victory is inevitable."
Follow us on Telegram
Similar materials