Saturday, 10 June 2023
USD383.31
EUR409.08
RUB4.55
The Degradation of Political Thought from David Babayan to Cardinal Richelieu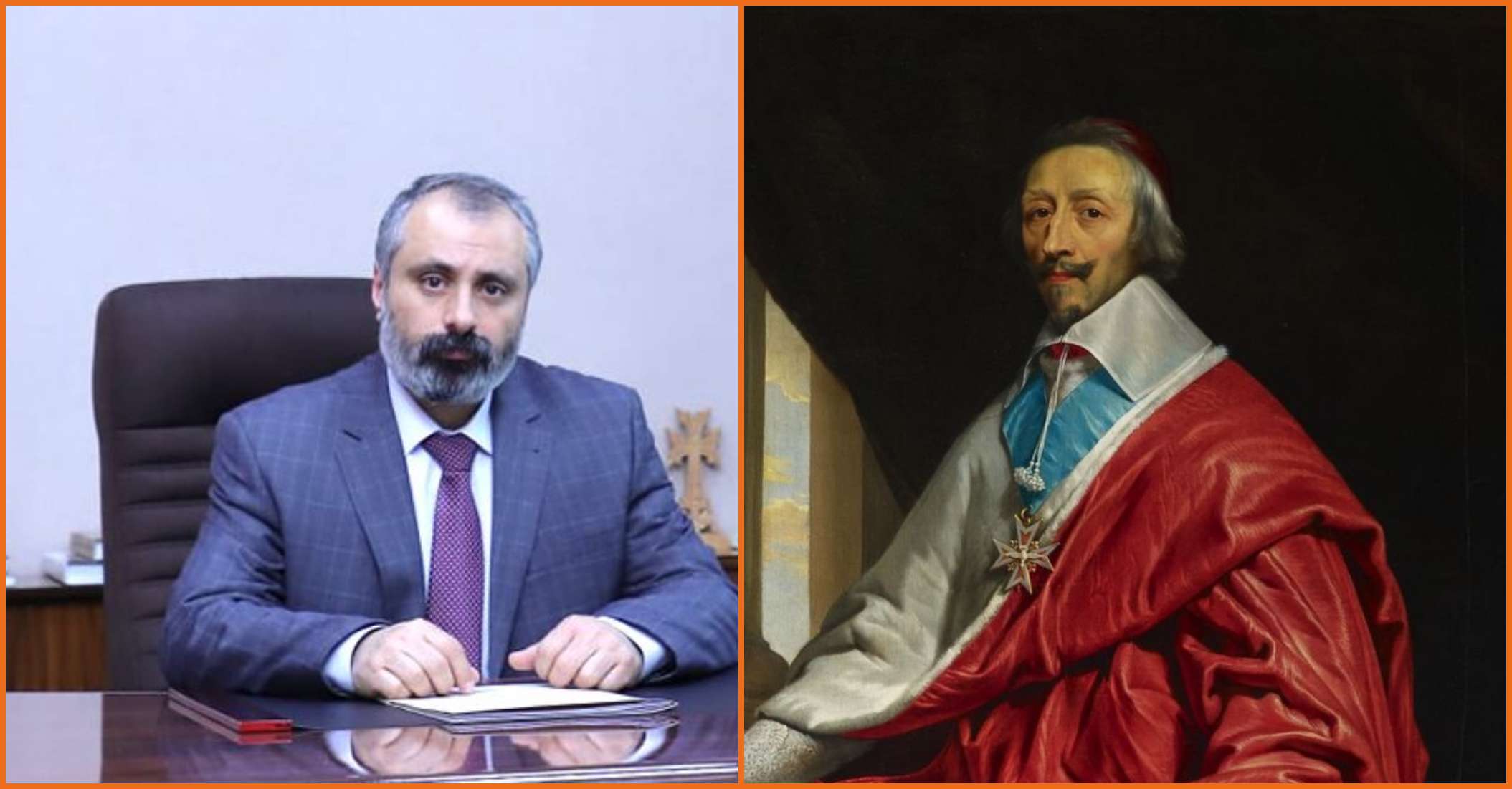 Davit Babayan, the adviser to the Artsakh president and former foreign minister of Artsakh, stated that after the recent escalation, they have repeatedly appealed to various international organizations, but in vain. According to him, instead of reacting, the countries that constantly talk about democracy congratulate Aliyev on the occasion of Nowruz.
"We have seen where their influence is. See how many countries congratulated Aliyev on Novruz. One of the Azerbaijani eco-activists says that we should cut the throats of Armenians and dip them in their blood to celebrate Nowruz, and different countries, which shout and shout about democracy on every opportune and inopportune occasion, congratulate Aliyev on Novruz, a man who is responsible for all these actions. And stands behind such people," said Babayan in his last interview.
Of course, Davit Babayan has the right to express complaints from the international community and Western countries. After all, everyone has the right to freedom of speech, to freely express their opinion.
However, when high-ranking government officials or deputies try to exercise their rights, it would be fitting to evaluate the value of their words.
For a long time, Davit Babayan held the position of the Minister of Foreign Affairs of the NKR; he is a political scientist by profession and a doctor of political science. And it is not we who should present to him the imperative of international relations, of advancing the interests of our own country in those relations. Students of the Faculty of International Relations are taught about state interests even in their first year. Also, from the first year, people learn that in our friendly country France in the 17th century, there was an influential figure, Armand-Jean du Plessis, aka Cardinal Richelieu. His name, of course, is known from fiction, from Dumas' novel The Three Musketeers. But in that novel, the character of the cardinal is presented in a completely different way and has nothing to do with the real Richelieu. And even in the 17th century, the real Richelieu consistently preached that state interests are primary and inviolable, above all else. These interests can never be sacrificed to feelings, ideology, conceptual traditions, and customs.
The Cardinal left behind a world different from the one he entered. Richelieu created and implemented a political mechanism by which France and, generally, the world moves to this day. And so, after all this, people should have known that every state is guided by its interest, and if that interest dictates today to be "good" with Azerbaijan, to turn a blind eye to what it has done, then they do so. It is unfair; of course, we will say more; it is inhumane. But international politics does not like sentiments; it rejects feelings—dry calculations. And so, in this sense, it should seem quite natural perceptions of democracy in the same Western world and steps towards the manifestations of democracy. And is there a need to remind that in today's confrontation between the West and Russia, gas is also delivered to Europe from Azerbaijan? since the summer of last year, Azerbaijan announced that Baku plans to export gas to Europe. So, in such cases, it is natural (but not moral) that the problems of Armenians should be subordinated.
This, of course, is difficult to accept, especially for people who place the interest of their own country lower than, say, the interest of Russia or America, or perhaps New Zealand and Cambodia. Instead of gossiping, reminding the world of the good done unnecessarily, and making demands on the planet, they would give themselves a little trouble and move according to the world's laws, trying to harmonize their interests with the interests of others. Maybe instead of crossing the world and the laws of the world and advancing their own "rights," they would be a little more realistic. Otherwise, sitting back and complaining about "Armenian luck" is easy. Vano would say this is not Armenian luck; it's just Armenian intelligence.
Especially since it is up to each sovereign state whether to congratulate Azerbaijan on Novruz.
In the same way, it would be good if they were careful about their words in Armenia as well because, for example, MP Gurgen Melkonyan, while talking about the Rome Statute, says that Russian President Vladimir Putin, whose arrest has been sanctioned by the Hague Court, will be arrested if he comes to Armenia. And he says this if the Rome Statute has yet to be ratified, it needs to be clarified whether it will be approved and how it will operate in case of ratification. Armenian luck or Armenian intelligence, it doesn't matter, forgetting the state interest, and between sympathizing with one and disliking the other, the political thought degrades.
Follow us on Telegram
Similar materials