Saturday, 10 December 2022
USD395.53
EUR409.62
RUB5.98
New Year's festive decoration works are underway in the capital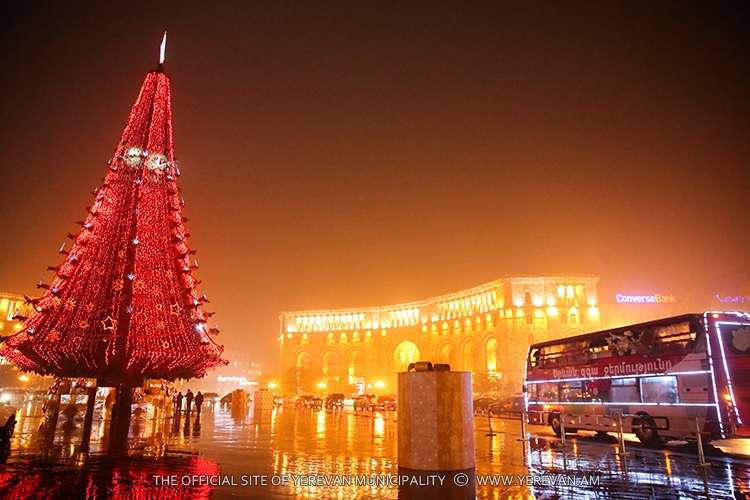 A regular procedural session was held today in Yerevan City Hall. As reported by the municipality, traffic is temporarily stopped on some streets due to New Year's holiday decoration works. Suren Grigoryan, the vice-mayor of Yerevan coordinating the process during the regular work consultation, asking for the citizens' forgiveness for the inconveniences caused, expressed his belief that the expectations of Yerevan residents will be met and the capital city will stand out this year with unique artistic lighting solutions. It was also noted that the decoration works are organized at night so as not to disturb the traffic.
***
Considering that street trade is becoming more active in the capital ahead of the New Year, the mayor of Yerevan ordered follow-up work to detect cases and exclude the phenomenon.
***
The Municipality of Yerevan continues notifying business people regarding the mandatory improvement of real estate and everyday use area adjacent to it. It has been reported that more than 95% of the 14,167 traders in the database have already been notified. It was ordered to keep the process under constant control, considering that even in the winter months, according to the established procedure, the business owners are obliged to clean the sidewalks from snow and ice accumulations.
***
Sixteen streets of the Sari district were provided with night lighting. 220 LED lights were installed.
The construction of the external lighting network of the second section of the Yrablur military pantheon ring road has also been completed.
***
The assembly station of the "Electratransport" company will be completed with community funds. Fifteen new and modern trolleybuses will be in Yerevan by the end of the year. The process of importing 150 new buses of the "Zhong Tong" brand and 87 of the "MAN" brand is also underway. Mayor Hrachya Sargsyan instructed to start recruiting drivers already.
Similar materials