Sunday, 4 June 2023
USD384.39
EUR409.50
RUB4.64
China has appointed a new ambassador to the United States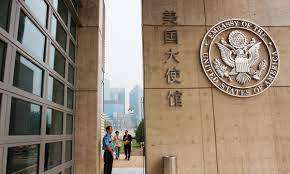 According to "Politico" newspaper, Chinese Vice Foreign Minister Xi Feng will leave for Washington on May 23 to assume the position of the Chinese ambassador to the United States.
Earlier, "The Wall Street Journal" reported on the possible appointment of Xi Feng to that position. According to the newspaper, the work of a diplomat with a long track record of successful dealings with the US as ambassador speaks to Beijing's willingness to engage with Washington rather than confront it.
On December 30, 2022, the former ambassador of China to the United States, Qin Gan, was appointed the Minister of Foreign Affairs of China.
Similar materials