Thursday, 28 September 2023
USD388.50
EUR404.94
RUB3.95
"We are ready for the match with the Turkish national team." Petrakov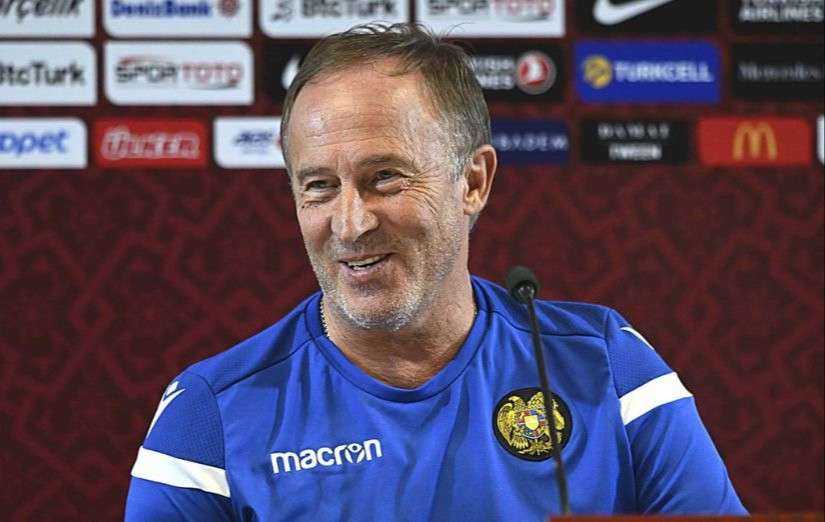 Ahead of the match between Turkey and Armenia in the qualifying group stage of the 2024 UEFA European Championship on September 7, a pre-match press conference with the head coach of the Armenian national team, Alexander Petrakov, and midfielder Eduard Spertsyan was held in the press conference hall of the "Yeni Eskişehir" stadium.
Eduard Sargsyan noted that it was an important game.
"Currently, we are in the 2nd position on the tournament table. This game is also important from a standings perspective. We have 5 games left, and every game is like a final. Let's wait until the end of the group stage and see how it goes. In general, football players always like to play in full stadiums. We hope that the fact that the stadium will be full of fans tomorrow will only affect us a little. The player emphasized that we have our game plan and will try to play our football."
Alexander Petrakov stated at the press conference that he would not say anything about the plan or tactical scheme of tomorrow's game.
"I think we have a crucial game tomorrow. If the Turkish national team can win, it will be 90 percent able to solve the issue of reaching the finals of Euro 2024. And in that case, we will complicate our problem. I can repeat once more what Eduard Spertsyan said: " 5 finals are waiting for us," said the coach.
Referring to Tigran Barseghyan's injury, Petrakov noted that it would not significantly impact the game. "We talked to each other; we parted very well. I asked him to go and get treatment. Fortunately, we have players on the offensive line who can replace Barseghyan in tomorrow's game."
Petrakov also noted that there are many good players in the Turkish team and singled out Cengiz Under and Hakan Calhanoglu.
Follow us on Telegram
Similar materials