Saturday, 25 March 2023
USD385.22
EUR411.28
RUB4.86
The champions of Armenia in gymnastics are known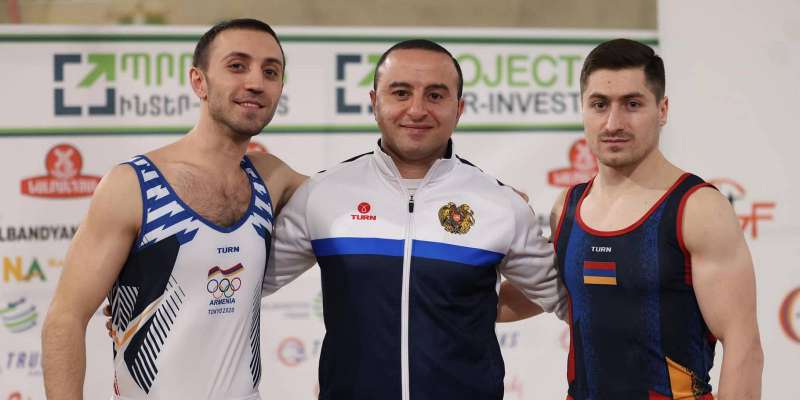 On March 8 and 9, the Armenian Gymnastics Championship was held in Yerevan. Women competed in sports schools named after Hrant Shahinyan, and men in sports schools named after Albert Azaryan.
Olympic bronze medalist, world, and European champion Artur Davtyan won 4 gold medals in the Armenian championship, being recognized as the winner in the all-around, pole vault, parallel bars, and pole vault exercises.
Vahagn Davtyan (14.566) had no equal in the rings exercise, Gagik Khachikyan (14.466) won the gold medal in the bars, and Hamlet Manukyan, the two-time European vice-champion of the youth, won the title of Armenian champion in men's free exercises. Two-time European champion Harutyun Merdinyan missed the championship due to injury.
Anna Mantashyan (free exercise, free exercise, balance beam) and Mane Poghosyan (pole vault) won the women's event.
Hakob Serobyan, the head coach of the Armenian gymnastics team, considers the championship results satisfactory, highlighting the indicators recorded by young people.
"Young people fought equally with adults. their results are very encouraging. Young gymnasts Hamlet Manukyan, Erik Baghdasaryan and Mamikon Khachatryan will participate in the world championship. It's time to compete as a team in the European and World Championships. Everything leads to it. Considering our results, as well as the fact that we will soon have new halls and sports equipment, we must do everything to be in the team fight and appear as a team in major tournaments," Hakob Serobyan told reporters.
The Armenian youth gymnastics team will hold a two-week training camp in Tbilisi from March 11, after which it will participate in the World Championship in Turkey. After the Armenian Championship, the adults will prepare for the European Championship, which will be held again in Turkey.
Follow us on Telegram
Similar materials