Monday, 5 December 2022
USD394.69
EUR409.81
RUB6.02
It was a great honor that the Armenian tricolor was raised in Turkey and the RA anthem was played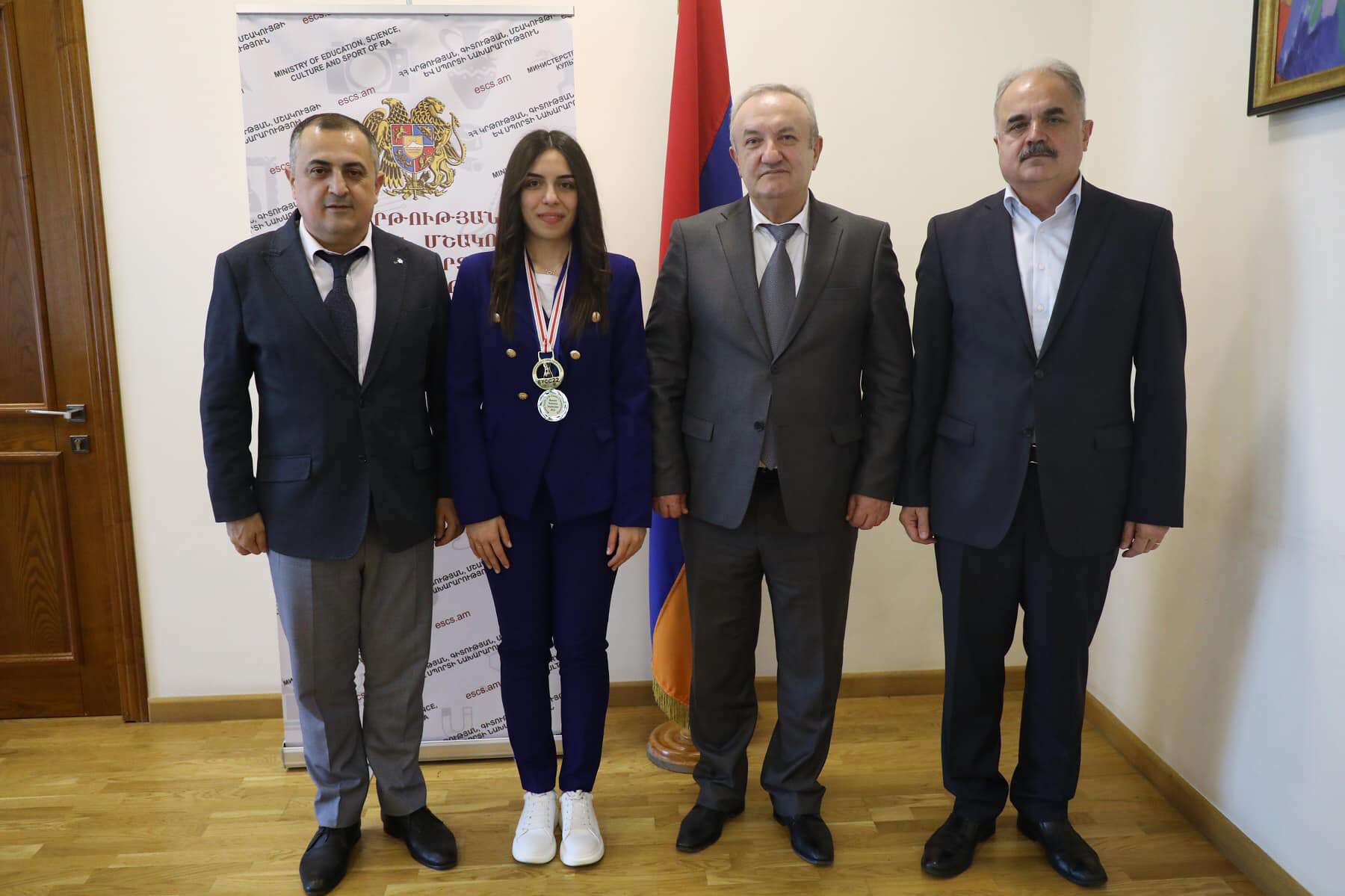 RA Minister of Education, Science, Culture, and Sports Vahram Dumanyan received Mariam Mkrtchyan, an Armenian women's chess team member. She recently won the title of champion in the U18 tournament of the European Youth Championship held in Antalya, Turkey.
Karen Giloyan, Deputy Minister of CSMS, and Hrachik Tavadyan, Executive Director of the Chess Federation of Armenia, were also present at the meeting. Vahram Dumanyan congratulated Mariam Mkrtchyan on her unprecedented success, stressing that great victories are possible only thanks to hard work and unwavering dedication.
"I was pleasantly surprised and proud when I learned that you could win the European U18 championship ahead of schedule. I am thrilled about this occasion and congratulate you from the bottom of my heart. You have already proven that you are a very hardworking athlete, and your successes are only the result of hard work. I know you will continue to work to succeed in the adult fight," said Vahram Dumanyan.
Mariam Mkrtchyan thanked for the reception and noted that it was a great honor for her when the Armenian tricolor was raised in Turkey and the RA anthem was played. "I prepared well for this championship. After becoming the champion at the U18 World Championship, we believed that I would succeed here and fight for medal places, although I did not expect to be recognized as the winner until the last moment. I am very proud that I became a champion and climbed to the podium's first step with tricolors. This was important to me; I am happy I could register this success in Turkey."
Mariam Mkrtchyan also said that she started playing chess at eight and learned to play at school. During this period, chess was included as a subject in the school curriculum. His first teacher and coach were Sevak Baghdasaryan, a specialist teaching "Chess" at secondary school No. 187 in Yerevan. He was also the coach of Mariam, with whom he became a medal winner of the Youth European Championship. Mariam admits that she probably would never have been interested in the game if they had not studied chess at school.
The Armenian sportswoman considers the year successful and notes that she plans for new victories. "I was able to show good results in several major tournaments, which is already satisfying. Shortly, two tournaments are planned, and I will also try to perform well in them."
Minister Vahram Dumanyan highlighted the importance of state care in chess and sports, stressing that the support will be continuous so that the results increase.
It should be noted that from November 28 to December 8, Mariam Mkrtchyan will participate in an international tournament in the Russian city of Khanty-Mansiysk, and from December 25 to 30, as part of the RA national team, she will participate in the blitz and rapid chess adult world team championship, which will be held in Kazakhstan.
It should be noted that Armenian representatives won 1 gold and three bronze medals at the European Youth Chess Championship held in Antalya with six age groups the other day. In the penultimate round of the U18 tournament of the European Youth Championship, in the 8th round, Mariam Mkrtchyan gained an advantage over the Irishman Trisha Kanyamarala. She won the European championship title ahead of time. In the last game, the Armenian sportswoman gained an edge over the Russian Alisa Nur-Mukhametova and scored 8.5 points out of 9 possible.
In September of this year, Mariam Mkrtchyan also won the title of world U18 champion, winning all 11 matches. The Armenian chess player was included in the Armenian women's national team in January of this year after winning the title of Armenian champion.
Similar materials