Sunday, 3 December 2023
USD400.14
EUR431.08
RUB4.38
Charge your electric car at Team Energy stations and pay 50%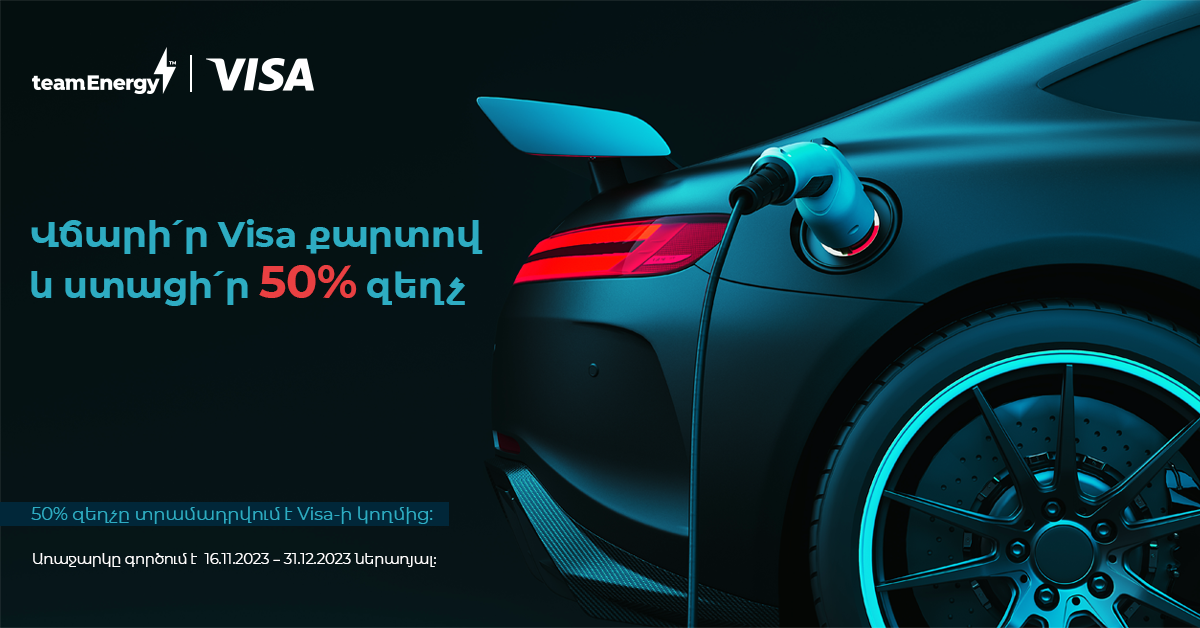 Team Telecom Armenia and Visa present an attractive offer for electric car drivers. When paying with a Visa card at Team Energy electric car charging stations, the customer will be charged 50% of the amount, and Visa will reimburse the remaining half.
Team Energy Stations' fast and ultra-fast AC and DC chargers are designed for charging all types of electric vehicles. They are installed in Yerevan, regions, and primary and interstate roads. High-speed DC charging stations provide up to 160 kV/h of power.
"Team Energy is one of the promising projects of Team Telecom Armenia, which makes moving in Armenia by electric car more comfortable, and with the participation of Visa, it is even more affordable. This is not the first experience of cooperation between Team and Visa; we have been implementing joint projects since 2021, forming exemplary partnership relations for the benefit of our customers," says Hayk Yesayan, CEO of Team Telecom Armenia.
"In cooperation with our partners, providing high-level services for Visa cardholders is the basis of our business; this cooperation with Team Telecom Armenia will benefit our customers and the planet. With this initiative, Visa Armenia is expanding its sustainability efforts and environmental awareness customer experience. We believe that going cashless around the world serves the best interests of our customers and the environment we all live in," says Diana Kiguradzen, Visa regional manager for the Caucasus.
The offer is valid from November 16 to December 31, inclusive. The Team Energy application is available in the App Store and Play markets. It allows you to find the nearest charging points, quickly charge and pay using a bank card, and if you are a Team Telecom Armenia subscriber, also from the balance of the Team phone number.
Follow us on Telegram
Similar materials