The US is ready to continue the effective partnership and support of the Ministry of Internal Affairs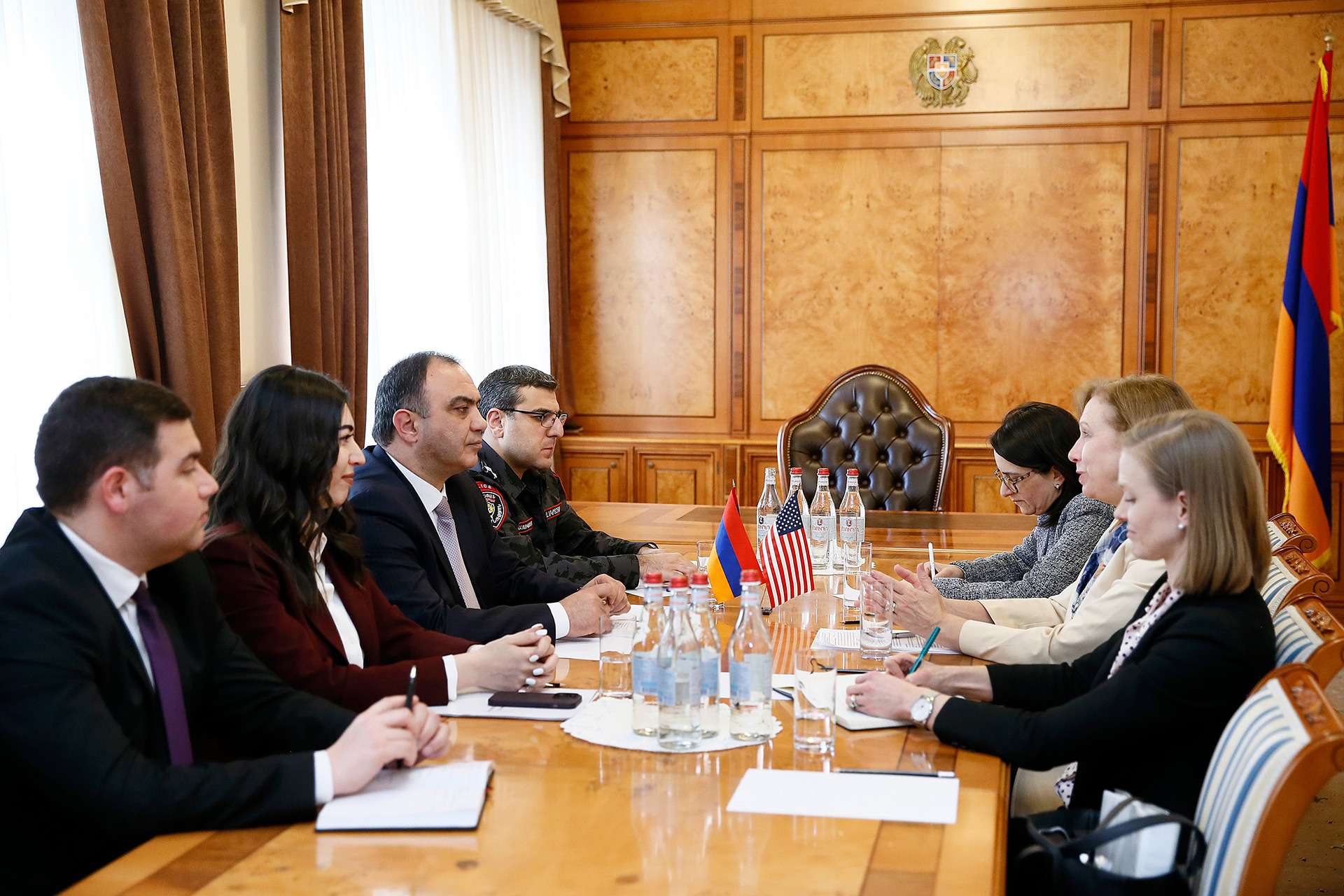 On March 24, RA Minister of Internal Affairs Vahe Ghazaryan received US Ambassador Extraordinary and Plenipotentiary to the Republic of Armenia, Kristina Kvien.
RA Deputy Minister of Internal Affairs Arpine Sargsyan, Head of the Police Headquarters of the Ministry of Internal Affairs Armen Mkrtchyan, and head of the anti-narcotics and law enforcement cooperation program of the US Embassy in Armenia, Alexis Haftvanii, were present at the meeting.
Welcoming the ambassador, Vahe Ghazaryan congratulated her on assuming the post. The Minister of Internal Affairs highly appreciated the 30-year solid and practical cooperation between Armenia and the USA based on the shared values of democracy, human rights, and the rule of law.
Vahe Ghazaryan expressed gratitude for the work and support provided to the Ministry of Internal Affairs and subordinate services.
He particularly emphasized the support of the US Embassy's Anti-Narcotics and Law Enforcement Cooperation Program to the police and the support provided to the rescue service by the Threat Reduction Agency of the US Department of Defense.
Kristina Kvien, thanks for the warm welcome, highlighted the projects implemented thanks to the cooperation and expressed readiness to continue supporting the reforms initiated by the Ministry of Internal Affairs.
The Ambassador Extraordinary and Plenipotentiary singled out the creation of the patrol service, which is already showing positive results.
At the meeting, issues of bilateral interest were discussed, including the work of forming the educational complex of the Ministry of Internal Affairs, the water patrol service, and the involvement of women in the services.
Follow us on Telegram
Similar materials