Saturday, 25 March 2023
USD385.22
EUR411.28
RUB4.86
France is ready to support the Ministry of Internal Affairs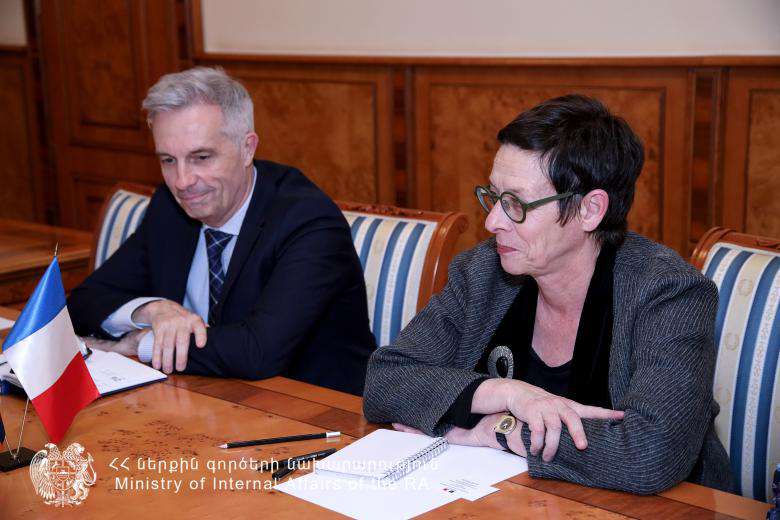 On March 16, RA Minister of Internal Affairs Vahe Ghazaryan received the Ambassador Extraordinary and Plenipotentiary of the French Republic to the Republic of Armenia, Anne Louyot. Welcoming the ambassador, Vahe Ghazaryan, highly appreciated the 28-year cooperation of the Armenian-French law enforcement structures and expressed his willingness to expand it.
The Minister of Internal Affairs noted that over the years, with the support of French partners, more than 100 events were organized for about a thousand police officers. In his speech, Vahe Ghazaryan also emphasized the intensive work between the national central bureaus of Interpol of Armenia and France. In the field of migration, the close cooperation with the regional representation of the French Immigration and Integration Office in Armenia.
Ambassador Extraordinary and Plenipotentiary Anne Louyot thanked for the warm reception, congratulated Vahe Ghazaryan on his appointment as the Minister of Internal Affairs of the Republic of Armenia, and expressed her willingness to support the ministry on behalf of France.
Noting the close ties within bilateral and international organizations, Anne Louyot highlighted cooperation in police, civil protection, and migration. Deputy Minister of Internal Affairs Arpine Sargsyan presented the details of the formation of the Ministry, as well as the ongoing reforms in the subordinate services.
He pointed out the cooperation in migration and citizenship within the framework of the RA-EU comprehensive and expanded partnership agreement (CEPA), noted the work on increasing the involvement of women in the services, the certification of employees, and the creation of the water patrol service.
Olivier Lefebvre, Regional Attaché of Homeland Security in the South Caucasus, presented the planned cooperation programs, which cover the areas of internal control, police guard, water patrol, drug sales through the Internet, domestic violence, fight against organized crime, migration, and citizenship. During the meeting, other issues aimed at expanding cooperation were discussed.
Follow us on Telegram
Similar materials