Sunday, 5 February 2023
USD394.25
EUR422.69
RUB5.38
RA Minister of Internal Affairs highly appreciated the cooperation with the EU delegation and the US Embassy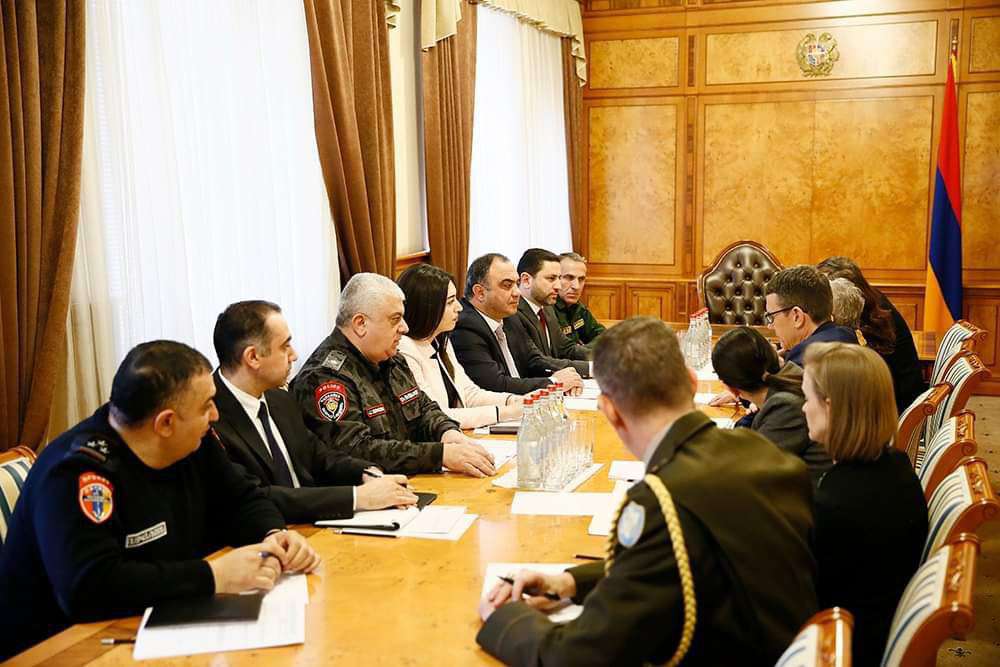 On January 25, RA Minister of Internal Affairs Vahe Ghazaryan received the delegations of the European Union and the US Embassy in Armenia, led by Ambassador Andrea Victorin and Chargé d'Affaires of the US Ambassador to Armenia Chip Laitinen.
Welcoming the guests, Vahe Ghazaryan highly appreciated the practical cooperation with the European Union delegation and the US Embassy, which has been developing more and more in recent years. He pointed out several reforms being carried out and thanked the guests for helping to implement them. The Minister of Internal Affairs expressed readiness to continue the cooperation, which is aimed at having excellent and professional services that face modern challenges.
The guests thanked for the warm reception, congratulated Vahe Ghazaryan on his appointment as Minister of Internal Affairs, and wished him success. The head of the European Union delegation in RA, Ambassador Andrea Victorin, presented the implemented works, including police, rescue and migration services. In this direction, the EU TAIX program was essential.
Chargé d'affaires of the US Ambassador to Armenia Chip Laitinen presented the work done by the embassy's anti-narcotics and law enforcement cooperation program and ICITAP. Cooperation in the direction of the creation and establishment of the patrol service was especially emphasized.
Deputy Ministers of Internal Affairs Arpine Sargsyan and Davit Hambaryan detailed to the guests the work being done in the spheres of formation of the Ministry and their coordination. During the meeting, issues related to the relationship and cooperation between the Ministry and civil society were also discussed. Emphasizing the ongoing close and practical partnership with the political community, the Minister of Internal Affairs expressed his willingness to continue.
They discussed the future tasks within the framework of cooperation, the continuity of reforms, the involvement of women in the services, the formation of the National Guard, the improvement of the educational environment, and several other issues of mutual interest.
Follow us on Telegram
Similar materials