Wednesday, 8 February 2023
USD393.83
EUR418.47
RUB5.32
The problem of opening the Lachine Corridor is in the focus of the British government's attention. John Gallagher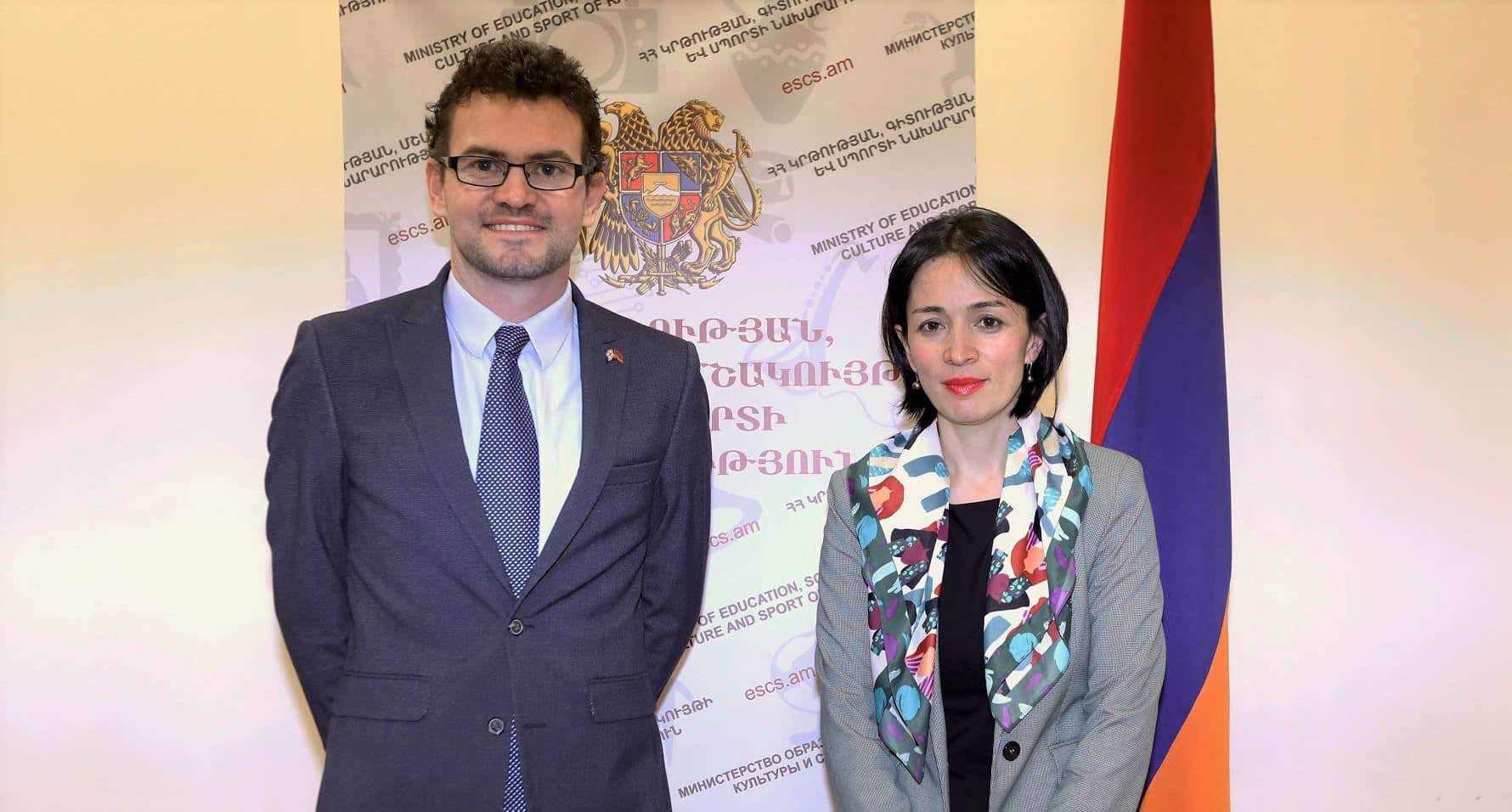 RA Minister of Education, Science, Culture and Sports Zhanna Andreasyan received John Gallagher, Ambassador Extraordinary, and Plenipotentiary of the United Kingdom of Great Britain and Northern Ireland, to the Republic of Armenia. Deputy Ministers Artur Martirosyan, Araxia Svajyan, and Adde Hovasapyan, director of the Armenian branch of the British Council, attended the meeting.
The ambassador congratulated Zhanna Andreasyan on his appointment as the minister of CGMS, noting that he values the continuity of cooperation in education, science, culture, youth, and sports. John Gallagher wished the minister joint and practical work to benefit the development and strengthening of friendly relations between the two states.
Zhanna Andreasyan, referring to sectoral cooperation, especially emphasized the effective collaboration of the Ministry of Education and Culture with the British Council. As successful examples, the support aimed at ensuring the quality of teaching and training of English teachers, the program for creating English clubs in schools, and the implementation of the "Creative Mind" program at universities were mentioned.
"The role and support of the British Council in the development of English teaching methodology and teacher training are vital," said the Minister of Education and Culture, thanking the British Council for its active support in developing the culture strategy project.
During the meeting, the implementation of joint scientific and educational programs was highlighted, which can contribute to creating new opportunities for cooperation in science and education. The course of educational and cultural reforms in RA was referred to, and both sides reaffirmed their willingness to cooperate even more closely in the implementation phase of sectoral strategies.
During the meeting, CSMS Minister Zhanna Andreasyan drew the ambassador's attention to the problem of the only road connecting Nagorno Karabakh, which has been surrounded by the Republic of Azerbaijan since December 12, 2022, with the Republic of Armenia and the whole world, again emphasizing the irreversible consequences of the humanitarian crisis.
"The fundamental rights of around 30,000 children continue to be violated daily, including the right to education. We hope our concerns will be addressed through diplomatic channels, the problem will be solved, and the Lachin corridor will be opened," said Zhanna Andreasyan.
Noting that the raised issue is the focus of the British government's attention, Ambassador John Gallagher expressed hope that the problem would be resolved positively.
The ambassador and the minister also discussed the possibility of expanding cooperation. Highly appreciating the work done and the exchange of experience, both sides emphasized expanding development programs in all directions. At the meeting, reference was made to the presentation of the progress and achievements of Armenia's educational reforms at the World Education Forum to be held in London shortly.
Follow us on Telegram
Similar materials