Wednesday, 8 February 2023
USD393.83
EUR418.72
RUB5.30
Educational institutions do not function in Karabakh. The minister of KGSMS presented to the Russian ambassador the consequences of closing the Lachin Corridor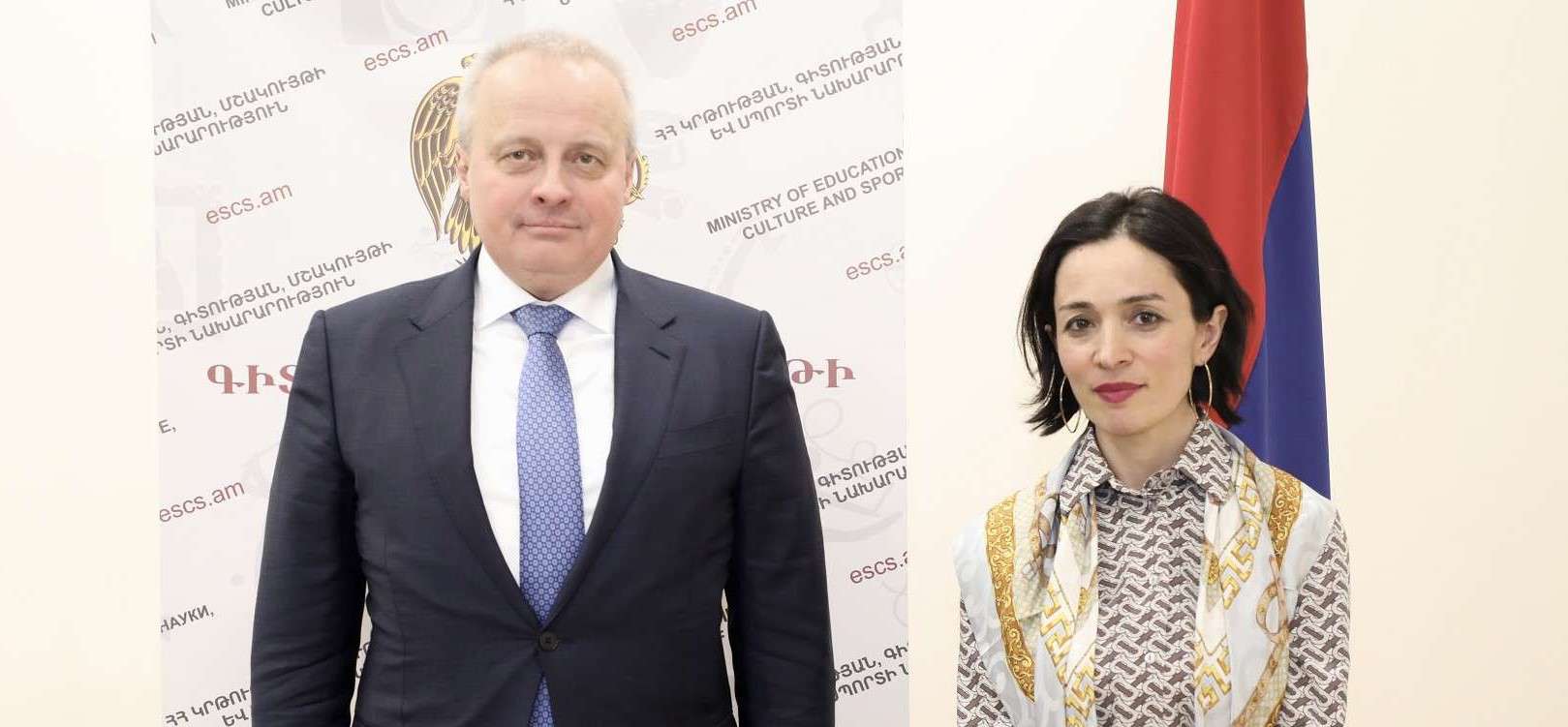 RA Minister of Education, Science, Culture, and Sports Zhanna Andreasyan received the Extraordinary and Plenipotentiary Ambassador of the Russian Federation to the Republic of Armenia, Sergey Kopirkin.
Artur Martirosyan, deputy minister of the RA MESCS, was also present at the meeting.
Sergey Kopirkin congratulated Zhanna Andreasyan on her appointment as minister, wishing her success in that important and responsible position.
The minister of MESCS noted that cooperation in the fields of education, science, culture, and sports occupies a special place in the interstate relations of Armenia and Russia. Continuing joint programs and implementing new sectoral initiatives is a priority. Minister Zhanna Andreasyan emphasized the continuous implementation of bilateral programs in the format of events, experience exchange, and joint cultural and sports events as an essential component of cooperation. The deepening of cooperation in the fields of science and education was also emphasized. In this context, it was mentioned about the scholarship programs in the university sector, within the framework of which the young people of RA get the opportunity of free education in the higher educational institutions of the Russian Federation.
Noting that the continuous implementation of existing initiatives in the areas of coordination of the Ministry of Internal Affairs and Communications will contribute to the development of Armenian-Russian cooperation, the Russian ambassador expressed his readiness to support the implementation of joint programs and closer collaboration between the ministries and sectoral structures of the two countries. Sergey Kopirkin highlighted the importance of the involvement of civil society and young people in joint Armenian-Russian projects, particularly in sports and cultural events. In this context, the joint concert of the famous Russian pianist Denis Matsuev and the Armenian State Symphony Orchestra, which will take place in Yerevan at the Aram Khachatryan concert hall, was emphasized.
The parties also referred to Aram Khachatryan's 120, Armenian Cinema 100, S. Rachmaninov 150, and F. Chaliapin's 150-year jubilee programs and discussed the possibilities of organizing joint events in Armenia and Russia.
During the meeting, the minister of the Nagorno-Karabakh Republic raised the issue of the humanitarian crisis caused by the blockade of Nagorno-Karabakh and the violation of children's right to education, reminding that from December 12, 2022, the Republic of Azerbaijan closed the only road connecting Nagorno-Karabakh with the Republic of Armenia and the rest of the world, the Lachin Corridor, as a result of which the created humanitarian crisis had an irreversible impact on all areas, especially children's education.
The minister emphasized that educational institutions are not functioning in Nagorno-Karabakh currently, and many children and students from Armenia cannot return to Nagorno-Karabakh.
In response, Russian Ambassador Sergey Kopirkin said that the Russian side is concerned about the situation and is taking consistent steps to resolve the conflict.
Follow us on Telegram
Similar materials