Thursday, 30 November 2023
USD399.92
EUR433.11
RUB4.43
Syria's Minister of Foreign Affairs and Diaspora supported RA's territorial integrity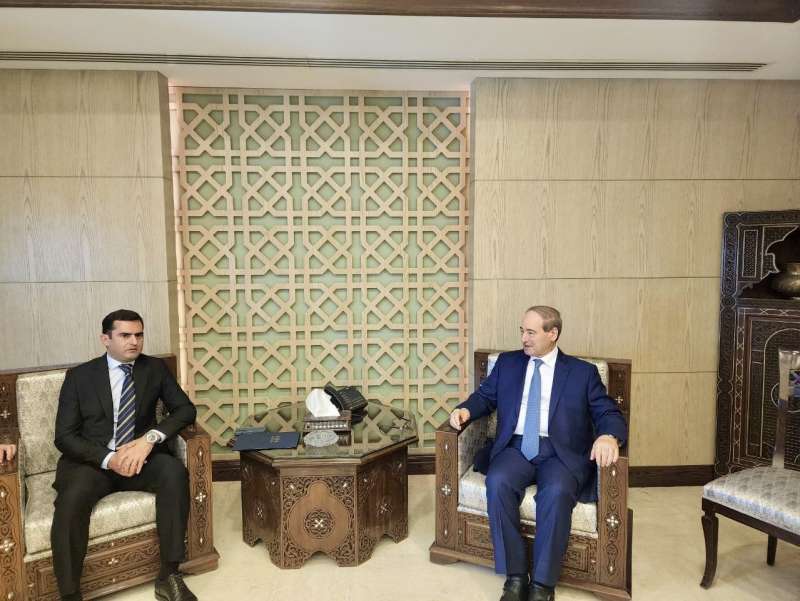 On November 14, the RA NA Deputy Speaker Hakob Arshakyan's delegation met with the Minister of Foreign Affairs and Diaspora of the Syrian Arab Republic, Faisal Al-Mikdad. At the meeting, Hakob Arshakian emphasized the unique role of the Syrian Armenian community as a bridge of friendship between two countries and peoples.
"Our constant concern is the targeted situation of the civilian population of Syria, including Armenians and other national minorities. In this regard, I would like to express our gratitude to the Syrian authorities for their caring attitude towards the Armenian community and our cultural heritage," highlighted the NA Deputy Speaker.
Referring to the international platforms, the NA vice president noted that Armenia maintains its position by voting in favor of decisions and resolutions to strengthen peace and security in the Middle East, such as "the creation of a nuclear-weapon-free zone. Middle East region', 'Nuclear proliferation risk in the Middle East.'
Hakob Arshakyan assessed Syria's support in those organizations of which Armenia is not a member and within which Azerbaijan is making efforts to carry out anti-Armenian activities, misleading false rhetoric to the international community, to give a negative image of Armenia and the Armenian people: Reference was made to the ongoing military operations in the Gaza Strip.
The Syrian Minister of Foreign Affairs and Diaspora, for his part, expressed support for the territorial integrity and sovereignty of the Republic of Armenia and considered any violation against the territorial integrity of the Republic of Armenia unacceptable.
The minister expressed support for the "Crossroads of Peace" project, the Armenian initiative to unblock infrastructure, firmly rejecting any idea of an extraterritorial corridor that could call into question Armenia's territorial integrity.
Faisal Al-Mikdad stated that Syria is ready to protect the interests of the Republic of Armenia in the international organizations to which Armenia is not a member. The meeting was attended by MPs Rustam Bakoyan, Shirak Torosyan and Aren Mkrtchyan.
Follow us on Telegram
Similar materials