Saturday, 23 September 2023
"Unfortunately, the address messages are not enough." Mirzoyan to the German Foreign Minister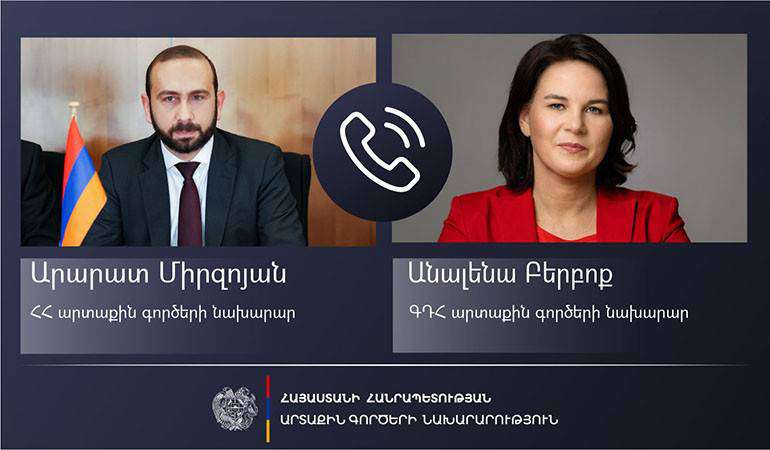 On September 5, the Minister of Foreign Affairs of the Republic of Armenia, Ararat Mirzoyan, had a telephone conversation with the Minister of Foreign Affairs of the Federal Republic of Germany, Analena Berbock. Issues of stability and security in the region were discussed.
Referring to the actions of the armed forces of Azerbaijan against the sovereign territory of RA on September 1, Minister Mirzoyan emphasized that it was another manifestation of Azerbaijan's continuous aggressive behavior. Minister Mirzoyan added that Azerbaijan is trying to destabilize the South Caucasus with its steps, which the international community should condemn.
Parallel to this, the consequences of the daily deepening humanitarian crisis in Nagorno-Karabakh for the population, especially vulnerable groups, and the urgency of overcoming the problem were emphasized on both sides. Minister Mirzoyan reaffirmed RA's position regarding the removal of the blockade of the Lachine Corridor by the decisions of the International Court of Justice and emphasized the need for international actors, including the EU, to take clear steps in this direction. Highly appreciating the addresses made by the partners so far, Minister Mirzoyan emphasized that, unfortunately, they are not enough to register a positive change on the ground, lift the de facto blockade of Nagorno Karabakh, and return Azerbaijan to a constructive field.
Reference was also made to the possible steps to advance the bilateral cooperation agenda between Armenia and Germany.
Follow us on Telegram
Similar materials