Saturday, 23 September 2023
The Armenian side highly appreciated the location of the EU mission in Armenia. RA MFA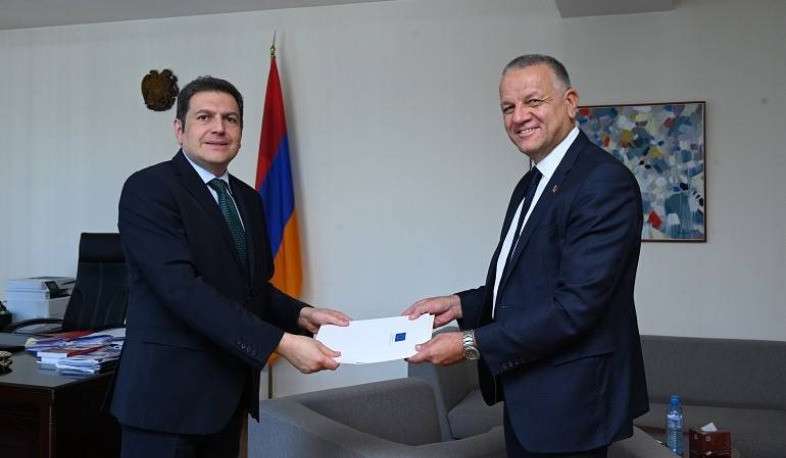 On September 1, RA Deputy Foreign Minister Paruyr Hovhannisyan received the new head of the European Union Delegation to the Republic of Armenia, Ambassador Vasilis Maragos, on the occasion of handing over a copy of credentials. Congratulating on assuming the position, Paruyr Hovhannisyan wished the ambassador success during his term of office.
During the meeting, the interlocutors touched upon several issues on the agenda of multi-layered relations between Armenia and the European Union, the EU's support for the ambitious program of reforms aimed at the democratic development of Armenia, the activation of political dialogue, as well as the further expansion and deepening of the cooperation agenda.
The RA Deputy Foreign Minister presented the security situation in the region and Armenia's efforts towards establishing peace to his colleague. Thoughts were exchanged on regulating Armenia-Azerbaijan relations addressing the security and rights of the people of Nagorno-Karabakh.
The need to remove the illegal blockade of the Lachin Corridor and exclude the threat of using force by Azerbaijan was emphasized. In the latter context, the Armenian side highly appreciated the mediation efforts of the EU and substantive steps aimed at stabilizing the situation, including the deployment of the EU mission in Armenia.
Follow us on Telegram
Similar materials