Thursday, 21 September 2023
"Active steps are required." Mirzoyan to his Slovak colleague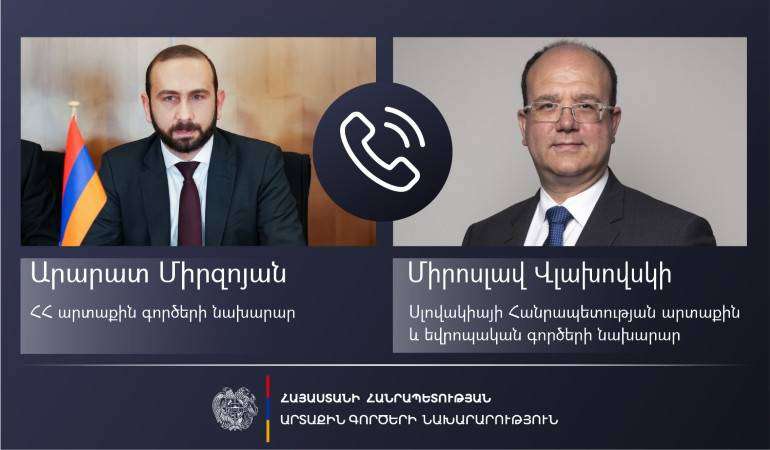 On August 24, the Minister of Foreign Affairs of the RA, Ararat Mirzoyan, had a telephone conversation with the Minister of Foreign and European Affairs of the Slovak Republic, Miroslav Wlachovský.
Ararat Mirzoyan presented to his colleague the details of the growing humanitarian crisis in Nagorno-Karabakh and the severe conditions created for 120,000 people resulting from Azerbaijan's illegal blocking of the Lachin Corridor.
Minister Mirzoyan emphasized that supplies of food and medicine to Nagorno-Karabakh are not carried out even through the International Committee of the Red Cross, whose activities are also hindered by Azerbaijan. In the context of the latter, the head of the RA Ministry of Foreign Affairs mentioned the case of the kidnapping of Vagif Khachatryan, who was being transferred from Nagorno-Karabakh to Armenia for treatment, by the border guard service of Azerbaijan on July 29, as a gross violation of international humanitarian law and an unacceptable step aimed at terrorizing the population of Nagorno-Karabakh.
Ararat Mirzoyan emphasized that Azerbaijan's way of working, which continues despite the many appeals of international partners, two binding decisions of the International Court of Justice of the United Nations, is an open policy of ethnic cleansing in Nagorno-Karabakh, and its further prevention requires international actors: stricter positions and active steps.
It was emphasized that to overcome the humanitarian crisis in the current situation, it is imperative to remove the blockade of the Lachin Corridor, noting that the further escalation of the situation by Azerbaijan may undermine the efforts to establish stability in the region.
During the phone call, the willingness to effectively use the significant potential in developing cooperation between the two countries was also emphasized.
Follow us on Telegram
Similar materials