Monday, 29 May 2023
USD383.22
EUR408.47
RUB4.73
The possibility of opening Qatar embassy in Armenia was discussed; the President met with the Emir of Qatar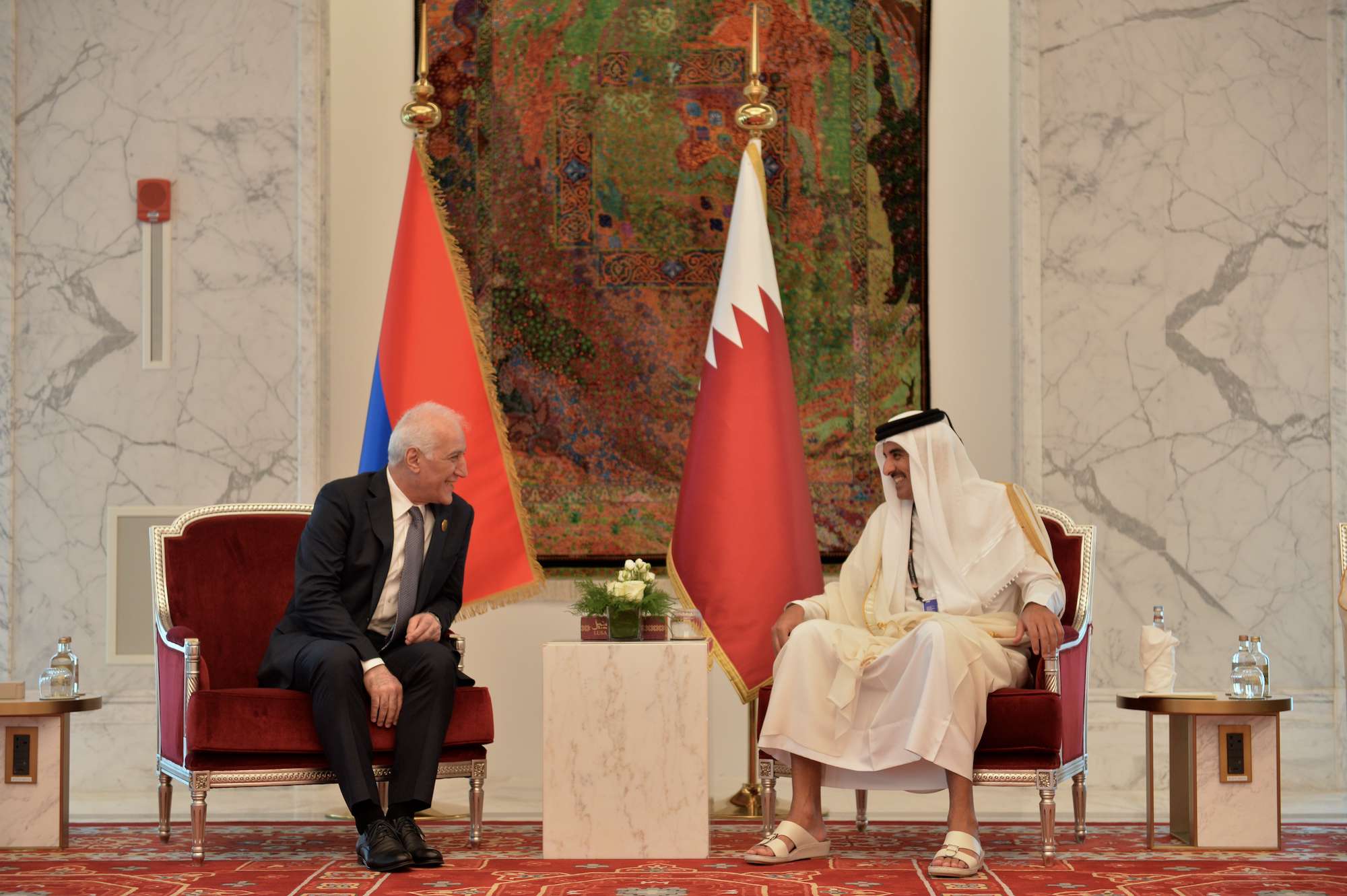 President Vahagn Khachaturyan, who is in the State of Qatar on a working visit, participated in the opening ceremony of the Qatar Economic Forum.
After the official ceremony, the President of the Republic met with Sheikh Tamim bin Hamad Al Thani, Emir of the State of Qatar.
The President thanked the Emir for the invitation and congratulated him on organizing the Qatar Economic Forum at a high level.
During the meeting, Vahagn Khachaturyan emphasized in his speech the importance of the continuous development of close friendly relations between Armenia and the Arab world and the readiness of both sides in this direction.
In his speech, the president of the republic told the emir details about the South Caucasian regional realities and the contents of the Karabakh problem. Vahagn Khachaturyan emphasized that Armenia is committed to establishing regional peace and neighborly relations with neighboring countries.
Sheikh Tamim bin Hamad Al Thani said in his speech that he knows the Armenian-Azerbaijani conflict and hopes the realities will develop according to the agenda of achieving stable peace. The Emir noted that currently, there are ten weekly flights from Qatar to Armenia and vice versa, which indicates the potential for cooperation between the two countries. Tamim bin Hamad Al Thani also stressed that establishing stability and peace in the region would contribute to further developing relations.
During the conversation, the possibility of opening the Qatari embassy in Armenia was discussed, and the importance of the latter was emphasized on both sides, which can raise the Armenian-Qatari economic, agricultural, political, and cultural cooperation to a new level.
At the end of the meeting, the President of the Republic invited the Emir of Qatar to visit Armenia.
Follow us on Telegram
Similar materials