Sunday, 11 June 2023
USD383.31
EUR409.08
RUB4.55
"We should strive for regional balance and peace, not war;" President of RA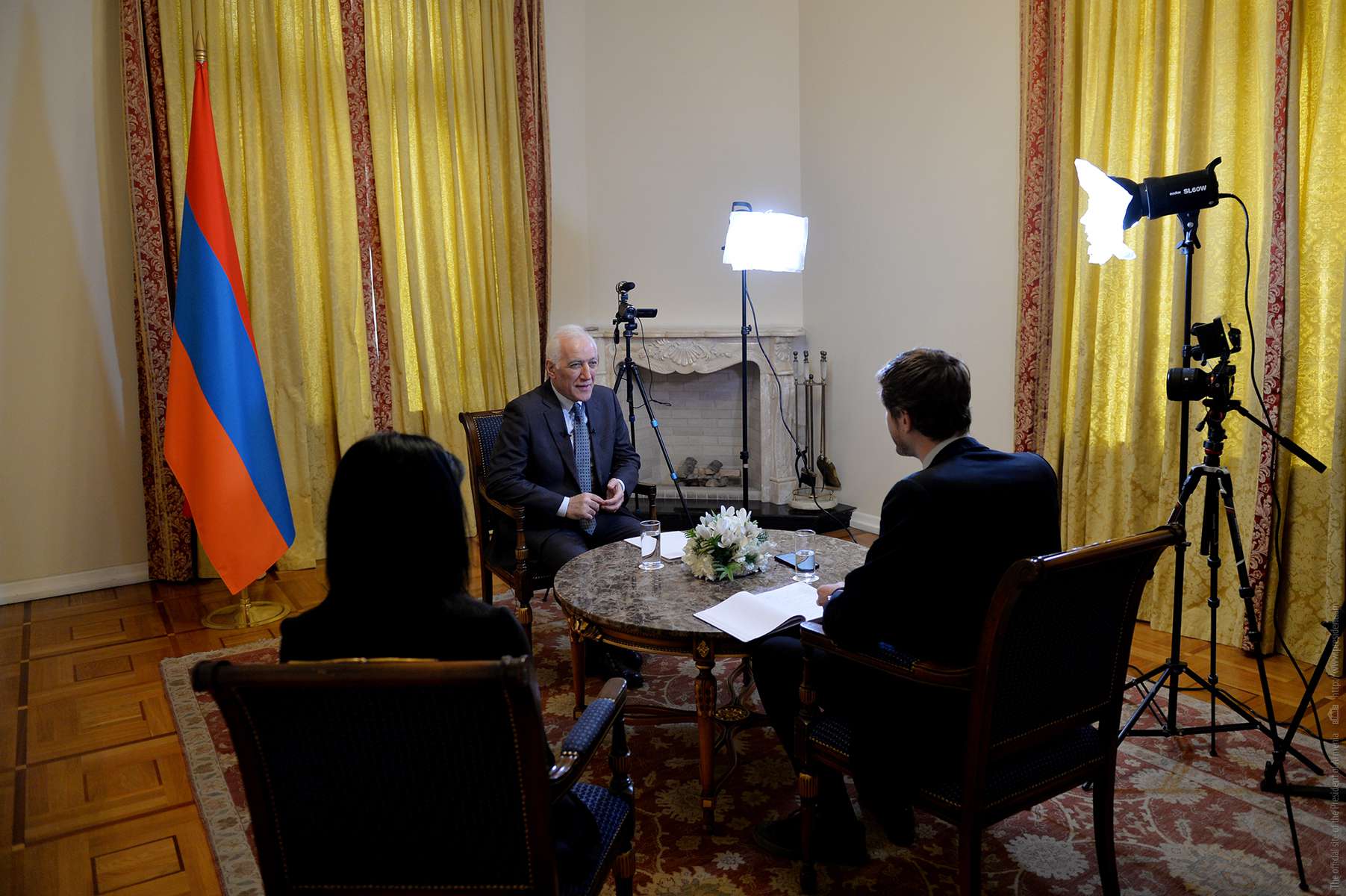 President of the Republic Vahagn Khachaturyan gave an interview with the Italian "la Repubblica" periodical.
During the interview, he touched on the problems and the general situation in the South Caucasus region. Vahagn Khachaturyan presented details about the Nagorno-Karabakh problem's content and the Karabakh movement's start.
In his speech, the president said: "Thirty years ago, the situation was the same as today, the survival of Armenians is at risk. There would not have been a war if there were no pogroms in Sumgait in 1988 and Baku in 1990, which were organized by the authorities of Soviet Azerbaijan. The result was that no Armenian lives in Sumgait or Baku today.
Today, Azerbaijan's policy is the same. He wants to depopulate Nagorno-Karabakh. Their government declares that the Nagorno-Karabakh issue no longer exists for them, as it was resolved in the 44-day war of 2020, even though 120 thousand of our compatriots still live in that region today. Baku insists they must live under Azerbaijani law or leave. They know very well that no Armenian will ever want to live in this kind of Azerbaijan, where human rights are violated, the values of democracy do not work, and besides, as Armenians, they are in constant danger. Despite our readiness to conclude a peace treaty and mutually recognize territorial integrity, Azerbaijan continues to take an aggressive position."
Answering the journalist's question about the blockade of the Lachin Corridor, the President of the Republic emphasized that on December 12, 2022, Azerbaijani fake environmental activists blocked the humanitarian corridor of Lachin under completely false pretexts, creating a threat of a humanitarian crisis for the 120,000 people of Nagorno Karabakh, due to lack of food, medicine, electricity, and gas, due to continuous outages.
Regarding common regional issues, Vahagn Khachaturyan emphasized that Armenia is fully committed to achieving stable and lasting peace and establishing balanced and neighborly relations with its neighbors. "We want to have neighborly relations with our neighbors; that's why our government has normalized relations with Turkey. I am glad that we have resumed the dialogue with Ankara after so many years. We must look to the future and see what kind of region we want to leave our children. We should strive for regional balance and peace, not war."
Follow us on Telegram
Similar materials