Wednesday, 29 March 2023
USD385.67
EUR414.14
RUB4.89
Aliyev's militant rhetoric is aimed at undermining efforts to establish stability in the South Caucasus. RA MFA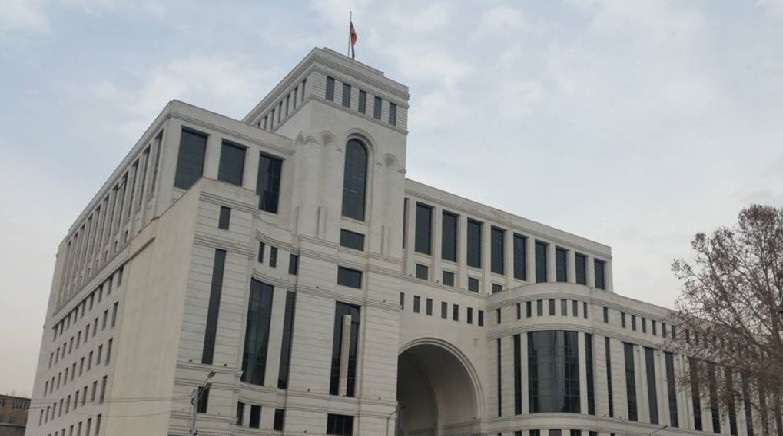 The RA Foreign Ministry said the false claims and belligerent statements of the President of Azerbaijan, which we've included below.
"On March 16, the speech of the President of Azerbaijan, Ilham Aliyev, during the summit of the heads of the Turkic states, was an open manifestation of territorial claims against the Republic of Armenia and the preparation of another aggression.
By presenting the sovereign territory of the Republic of Armenia under the fictitious name "Western Azerbaijan," the President of Azerbaijan grossly violates not only the UN Charter, the UN General Assembly Declaration on the Principles of International Law of Neighboring Relations and Cooperation between States, the Almaty Declaration, but also his commitments in the Prague and Sochi declarations, which are referred to in this very speech.
Azerbaijan continuously obstructs the return of refugees and internally displaced persons to Nagorno-Karabakh and neighboring regions while simultaneously announcing that it will resettle the territories that came under its control due to the deportation of the Armenians of Nagorno-Karabakh.
Violating essentially all the articles of the tripartite declaration of November 9, 2020, the president of Azerbaijan is obstructing the process of opening regional communications with his admission of fictitious talk about the corridors.
The belligerent rhetoric of the leader of Azerbaijan is aimed at completely disrupting the efforts to establish stability in the South Caucasus and resorting to large-scale force against both the sovereign territory of the Republic of Armenia and Nagorno Karabakh. Moreover, the insulting language used against the Armenians of Nagorno-Karabakh, accompanied by actions aimed at creating a humanitarian disaster on the ground, demonstrates Azerbaijan's unconcealed policy of ethnic cleansing at the highest level.
Moreover, voicing such provocative theses in Ankara aims to undermine the ongoing peace negotiations between Armenia and Azerbaijan and inhibit the positive dynamics in the process of Armenia-Turkey relations.
All partners interested in the stability and peace of the region should immediately evaluate the similar policy of the President of Azerbaijan and take active steps to eliminate the violations of international law by Azerbaijan and exclude the use of force."
Follow us on Telegram
Similar materials