Thursday, 23 March 2023
USD385.33
EUR410.78
RUB4.83
The Prime Minister was present at the opening ceremony of the monument dedicated to the memory of March 1 victims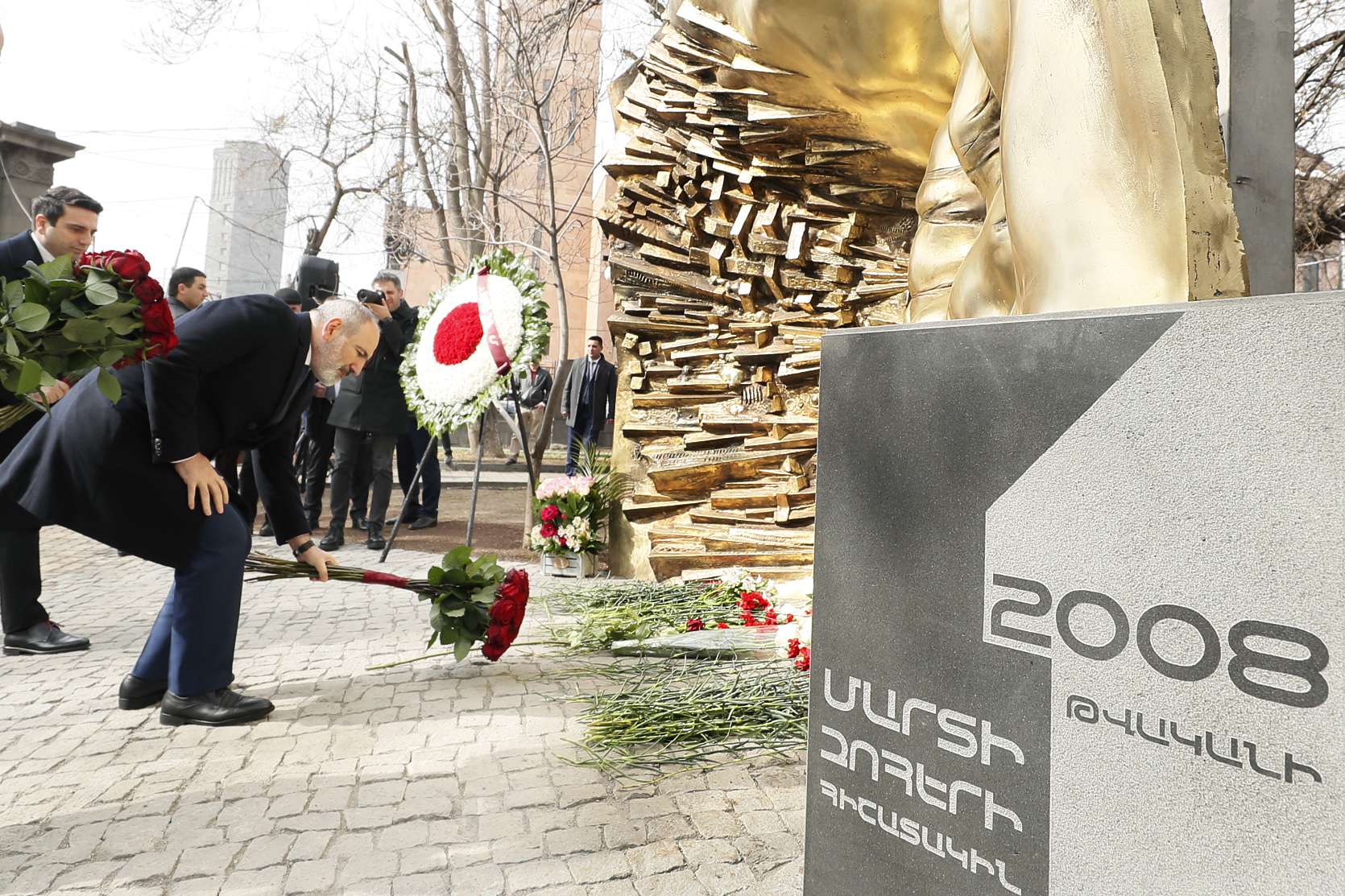 Prime Minister Nikol Pashinyan attended the opening ceremony of the monument dedicated to the memory of March 1 victims. It was opened in Yerevan at the entrance of the Children's Park adjacent to Grigor Lusavorich Street. The monument's author, called "Influence and Counteraction," is the sculptor Albert Vardanyan.
RA President Vahagn Khachaturyan, NA Speaker Alen Simonyan, Yerevan Mayor Hrachya Sargsyan, Deputy Mayor Tigran Avinyan, and relatives of the victims also participated in the opening ceremony.
Nikol Pashinyan delivered a speech in which he specifically stated:
"Dear President of the Republic of Armenia,
Honorable President of the National Assembly,
Dear attendees,
Dear members of the families of the victims of March 1,
Today we commemorate the victims of March 1 and recall the events of March 1 and the preceding. I want to emphasize that March 1 is not a day of mourning at all. Of course, we mourn the fact of victims and commemorate their memory, but in reality, March 1 has a much broader context, and the life and struggle of our brothers who died on March 1 are about something completely different. Immediately after the 2021 parliamentary elections, I had the opportunity to say on various platforms that it was the first time in Armenia that the polls were not the cause of an internal political crisis but a way to overcome it. This is also my follow-up from the events of March 1, 2008, because, you know, I was personally very significantly involved in those events. And the consequence is that, in reality, March 1, 2008, is about the lack or absence of democracy; it is about obstructing, breaking, and deforming the people's free will, depriving them of the opportunity to express themselves and make decisions. This is precisely how we should perceive the advice of March 1. And at least in that regard, the struggle and sacrifices of March 1 have reached their destination. Today, falsifying elections in the Republic of Armenia is already a turned page, to which there will be no return. And its guarantor is not any government, party, or authority. Still, its guarantor is the people of the Republic of Armenia, who, in the end, adjusted and are adjusting their goals during the 30 years of independence and statehood. : And its destination is the vision of living a free and creative life in an independent, sovereign, strong state, a picture of living a free and happy life.
March 1 is also about how we use our time as a state and independent country. March 1 and later also in September 2020 essentially expressed the wasted times we should have used to build a state, institutions, independence, sovereignty, prosperity, and economy.
We should consider March 1 in this sense because March 1 is not a cause but an effect. All our problems are not a cause, but a consequence of our inaction somewhere, making too many compromises and showing too much tolerance to many phenomena. And this monument of March 1 should be a visible testimony to us of what we are busy with every day, what we are building for tomorrow because today is today as a result of yesterday. Tomorrow will be again today. As a result of yesterday. Consequence. And so tomorrow is built today; each of us makes that tomorrow every day.
The example of the victims of March 1 and, in general, of all our brothers who fell for our independence, sovereignty, civil rights, and democracy will force us to constantly return to these questions: what are we doing, and what are we doing right? , and what are we doing wrong, and where are we sure that we perceive the reality correctly, and where are we sure, to what extent are we sure that we know that reality, that environment, those conditions, the processes that take place in us and around us.
Commemorating the memory of our brothers who died on March 1, I want to pay a tribute of respect and humility to the citizen of the Republic of Armenia, to the citizens of the Republic of Armenia as a collective, and to each one individually. Today, they are the guarantors of Armenia's statehood, sovereignty, independence,ce, and future. And we must do everything and wilmakedo everything to be worthy of our victims of March 1f, the 44-day war, the victims of the September aggression, the first Artsakh war, who gave their lives for the homeland, for freedom, for legitimacy, for sovereign, toto all our citizens. But we must also remember our goal. Our final goal is that we come to the logic of living for sovereignty, independence, democracy, rights, and freedom, not by constantly dying, but by living with all of that, developing and building our motherland, our state, because victims are enough, because our destination is the time to live, and this day represents just that.
Thank you":
The Prime Minister laid flowers on the monument and honored the 2008 anniversary—the memory of the victims of March 1.
Follow us on Telegram
Similar materials