Thursday, 30 March 2023
USD385.56
EUR413.50
RUB4.86
The Deputy Minister of Foreign Affairs emphasized the principled approaches adopted by the Pope in overcoming the challenges of Armenia and Karabakh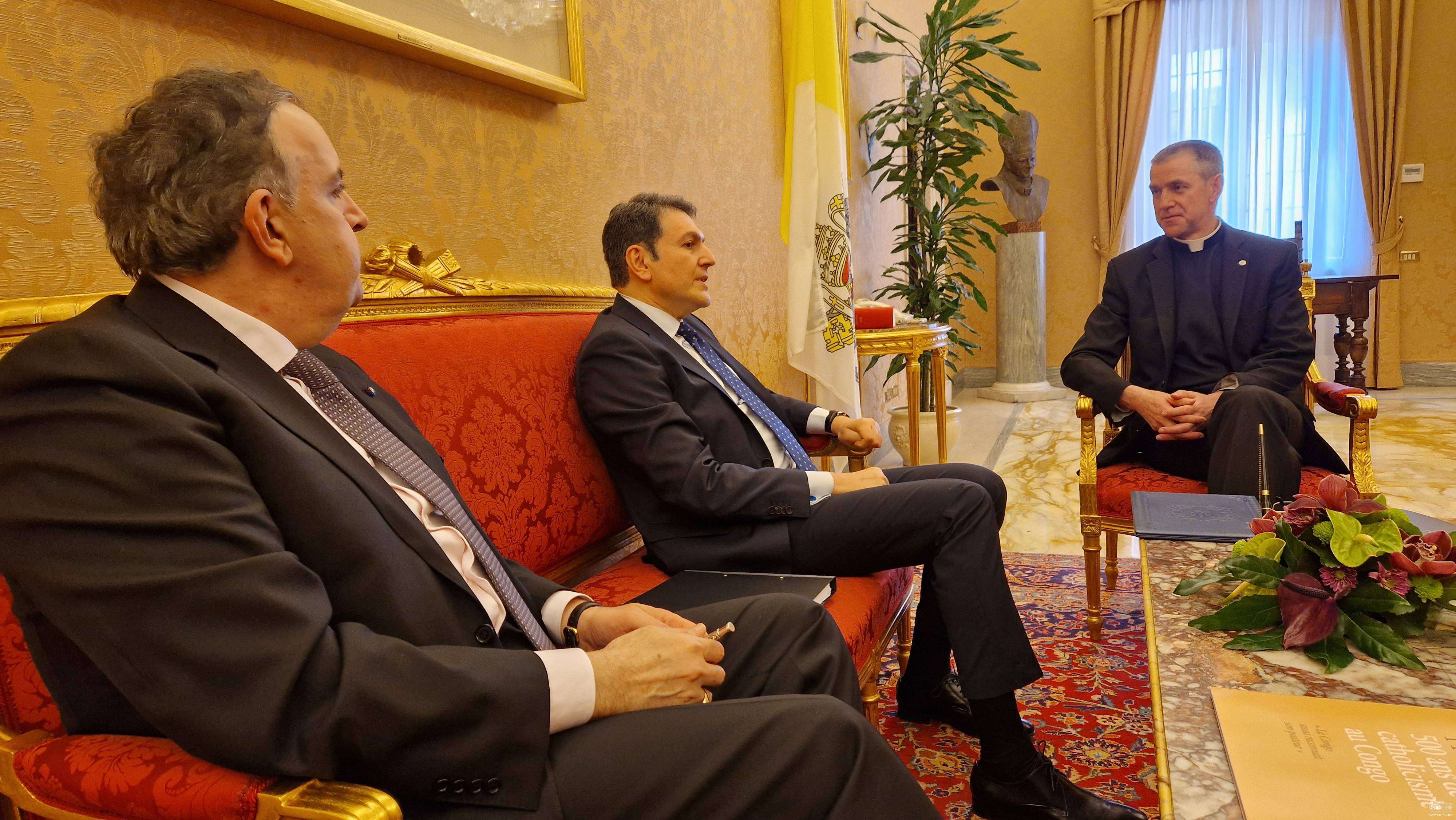 On February 27, within the framework of a working visit, RA Deputy Foreign Minister Paruyr Hovhannisyan, accompanied by Ambassador Karen Nazaryan, met with the Deputy Secretary for Relations with the States and International Organizations of the Holy See (Deputy Foreign Minister) With Miroslav Vachovsky.
During the meeting, the parties discussed the warm bilateral traditional relations anchored on Christian values and historical and cultural ties. Paruyr Hovhannisyan emphasized the principled approaches adopted by the Holy See, mainly the High Priest of Rome, in overcoming the challenges facing Armenia and Nagorno-Karabakh.
Following the RA Foreign Minister's official visit to the Vatican last October, the parties also discussed the possibilities of expanding cooperation on multilateral platforms based on the similar approaches of Armenia and the Holy See to some international issues, including the protection of spiritual and cultural heritage.
Paruyr Hovhannisyan presented to the interlocutor Armenia's positions to establish peace in the region, the problematic humanitarian situation created due to the illegal blocking of the Lachin Corridor, emphasizing the importance of the recent decision of the International Court of Justice and its immediate implementation by Azerbaijan.
On the same day, the deputy minister participated in the commemoration ceremony of Grigor Narekatsi's Memorial Day, organized by the RA Embassy in the Holy See in St. Peter's Cathedral of the Vatican, and laid a wreath on his statue in the Vatican gardens.
As part of the visit, Paruyr Hovhannisyan was received by the Grand Chancellor of the Sovereign Military Covenant of Malta (Foreign Minister), Ricardo Paterno Di Montecupo. Initiatives aimed at solving humanitarian problems were discussed at the meeting, and the role and importance of the humanitarian diplomacy of the Malta Covenant in mitigating the consequences of conflicts were emphasized on both sides.
In Rome, Deputy Minister Paruyr Hovhannisyan also met Catholicos-Patriarch Raphael Petros Minasyan of the Armenian Catholic Church of St. Cilicia.
Follow us on Telegram
Similar materials