Sunday, 2 April 2023
USD385.81
EUR414.61
RUB4.82
Ararat Mirzoyan referred to the need for active involvement of ICRC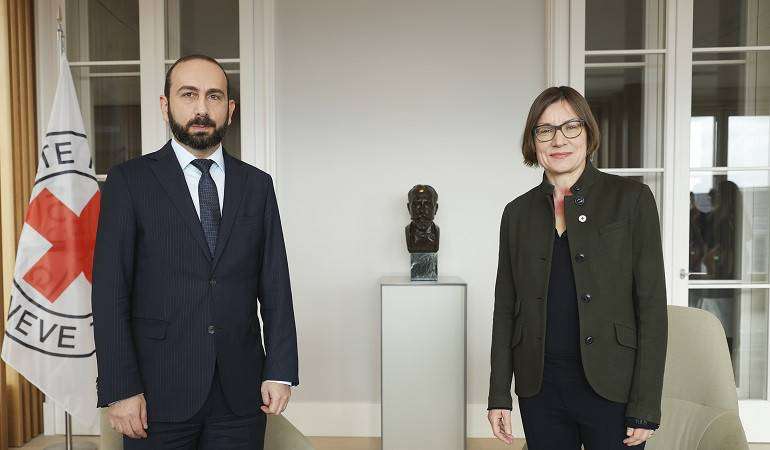 On February 27, RA Foreign Minister Ararat Mirzoyan, who was in Geneva on a working visit, met with the President of the International Committee of the Red Cross (ICRC), Mirjana Spoljaric Egger.
The Minister of Foreign Affairs of the Republic of Armenia highly appreciated the multi-year activity of the ICRC in Armenia aimed at solving humanitarian problems. In this context, the efforts of the ICRC in the direction of the return of Armenian prisoners of war and civilians held hostage in Azerbaijan, the cases of enforced disappearance, and the discovery of the fate of the missing persons have been valued.
During the meeting, the parties discussed the details of the humanitarian situation created in Nagorno-Karabakh due to the blocking the Lachin Corridor. Minister Mirzoyan emphasized that Azerbaijan grossly violates its commitments and norms of international humanitarian law and the protection of human rights. The importance of implementing the decision of the International Court of Justice on the application of emergency measures to Azerbaijan on February 22 was also emphasized.
Ararat Mirzoyan referred to the need for the ICRC's active involvement in addressing the humanitarian challenges in Nagorno-Karabakh.
Minister Mirzoyan also stressed the importance of sending an international fact-finding mission to Nagorno-Karabakh and the Lachin Corridor and ensuring unhindered humanitarian access to relevant international structures.
Follow us on Telegram
Similar materials