Monday, 20 March 2023
USD385.33
EUR407.67
RUB4.84
Mirzoyan discussed regional agenda issues with Türk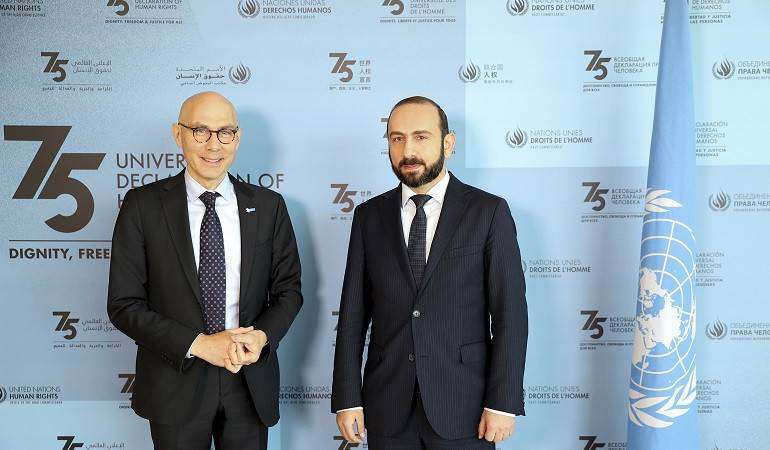 On February 27, Armenian Foreign Minister Ararat Mirzoyan met with UN High Commissioner for Human Rights Volker Türk in Geneva. The parties discussed issues related to cooperation within the framework of the UN Human Rights Protection System.
The interlocutors referred to the process of democratic reforms in Armenia and the steps and achievements of the RA government to protect human rights and strengthen the rule of law. Issues of international and regional agenda were discussed.
Ararat Mirzoyan noted that during the 44-day war of 2020 and the aggression against the sovereign territory of Armenia in May 2021, November, and September 2022, gross violations of human rights were recorded by the armed forces of Azerbaijan, emphasizing in this regard the precise actions of international co-religion structures, as well as the International Justice implementation of the court decision. Minister Mirzoyan stressed the imperative of the immediate repatriation of Armenian prisoners of war and civilians illegally held in Azerbaijan, noting that with its actions, Azerbaijan violates not only the provisions of the tripartite declaration signed by itself on November 9, 2020 but also the norms of international humanitarian law.
Referring to the humanitarian challenges faced by the 120,000 people of Nagorno-Karabakh due to the blocking of the Lachin Corridor by Azerbaijan, the Foreign Minister emphasized the importance of the intervention of relevant UN bodies and providing humanitarian access to Nagorno-Karabakh.
Minister Mirzoyan also presented the Armenian side's efforts toward normalizing relations between Armenia and Azerbaijan.
Follow us on Telegram
Similar materials