Wednesday, 29 March 2023
USD385.67
EUR414.14
RUB4.89
The Armenian-American dialogue has a strategic nature; NA Speaker to the US Ambassador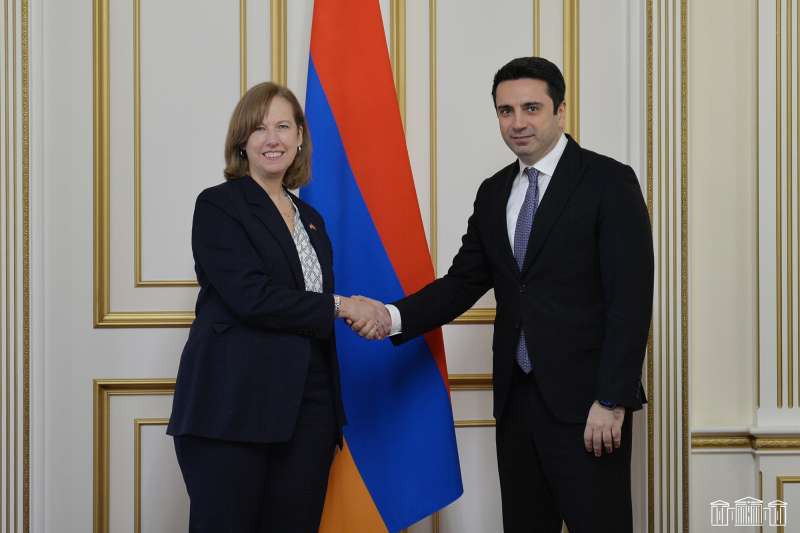 RA NA Speaker Alen Simonyan received the newly appointed US Ambassador to Armenia, Christina Quinn, on February 27. Congratulating the Ambassador Extraordinary and Plenipotentiary, the Speaker of the RA National Assembly expressed confidence that Armenian-American relations will continue to develop and expand during the implementation of his mission.
The Speaker of the RA National Assembly noted that the United States occupies a key place in Armenia's political and economic life, and the Armenian-American dialogue is strategic.
Alen Simonyan emphasized the importance of US assistance to the systemic reforms implemented in our country, which contribute to the development and strengthening of democracy.
The parties referred to the situation in Armenia and Nagorno-Karabakh due to the Azerbaijani aggression, expressing concern about the humanitarian disaster in the region of Artsakh Armenians. Alen Simonyan emphasized that one of the essential steps in this direction is the decision of the International Court of Justice of the United Nations, by which Azerbaijan is obliged to ensure the uninterrupted movement of transport and people through the Lachin Corridor. He emphasized that the United States can play a decisive and weighty role in implementing the decision.
Thoughts were exchanged about the international community's need to increase pressure on Azerbaijan, including the possible application of sanctions. In concluding his speech, RA NA Speaker noted that Armenia has no territorial claims toward its neighbors, has adopted the path of democracy, and continues to adhere to the agenda of achieving peace.
Follow us on Telegram
Similar materials