Monday, 20 March 2023
USD385.28
EUR407.75
RUB4.84
Armenia believes that only peaceful dialogue can solve problems and establish stability in our region; Sargis Khandanyan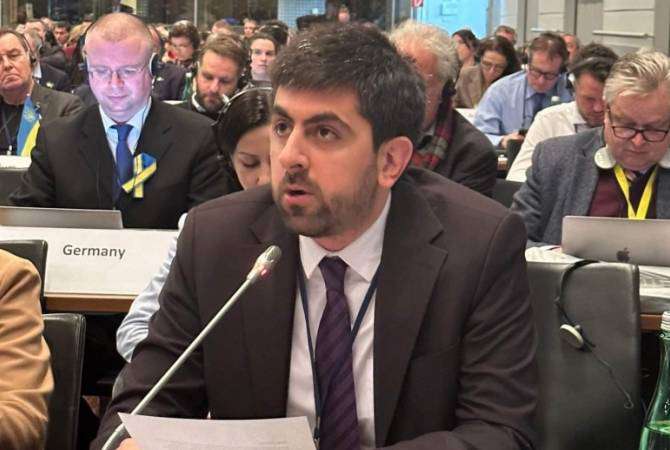 The NA delegation participated in the winter session of the Parliamentary Assembly of the Organization for Security and Cooperation in Europe.
On February 24, the head of the RA NA delegation, deputy of the "Civil Contract" faction, Sargis Khandanyan, gave a speech at the Assembly. In his remarks, the MP said:
"Madam President,
During yesterday's debate, when the members of this assembly spoke about Azerbaijan's illegal blockade of the Lachin Corridor and the need for its immediate reactivation, our Azerbaijani colleagues countered them with the argument that several hundred trucks of the Red Cross and Russian peacekeeping troops have passed through the corridor since December. My question is the following. Since when did we start counting the number of trucks that deliver food, medicine, and fuel to our settlements? Since when did the right to free movement to become a manifestation of generosity, and how much more can the international community be mocked?
Dear Colleagues,
When discussing the Nagorno-Karabakh problem, we aim not to perpetuate solidarity—precisely the opposite. We need the international community's support to overcome the cycle of hatred and violence in the South Caucasus.
Therefore, Armenia believes only peaceful dialogue can solve problems and stabilize our region. Armenia is ready to advance the process of establishing peace with Azerbaijan based on mutual recognition of each other's territorial integrity and sovereignty. Armenia has no territorial claims against Azerbaijan or any of its neighbors. The Nagorno-Karabakh issue concerns the rights and security of Nagorno-Karabakh Armenians, and it should be resolved through an internationally visible dialogue between Baku and Nagorno-Karabakh.
Armenia is ready to open all the transport and economic infrastructures of the region within the framework of the agreements reached regarding the sovereignty of the countries and the maintenance of rights over the roads.
The Nagorno-Karabakh conflict has existed for more than 30 years. I am younger than this conflict, and as a young parliamentarian and decision-maker, I do not want to leave this conflict as a legacy to the next generation.
The slogan of this year's presidency is "It's about people," I hope we believe this also applies to the people of Nagorno Karabakh, right?
Follow us on Telegram
Similar materials