Saturday, 25 March 2023
USD385.17
EUR411.17
RUB4.86
The President awarded the Foreign Minister of Luxembourg with the Mkhitar Gosh medal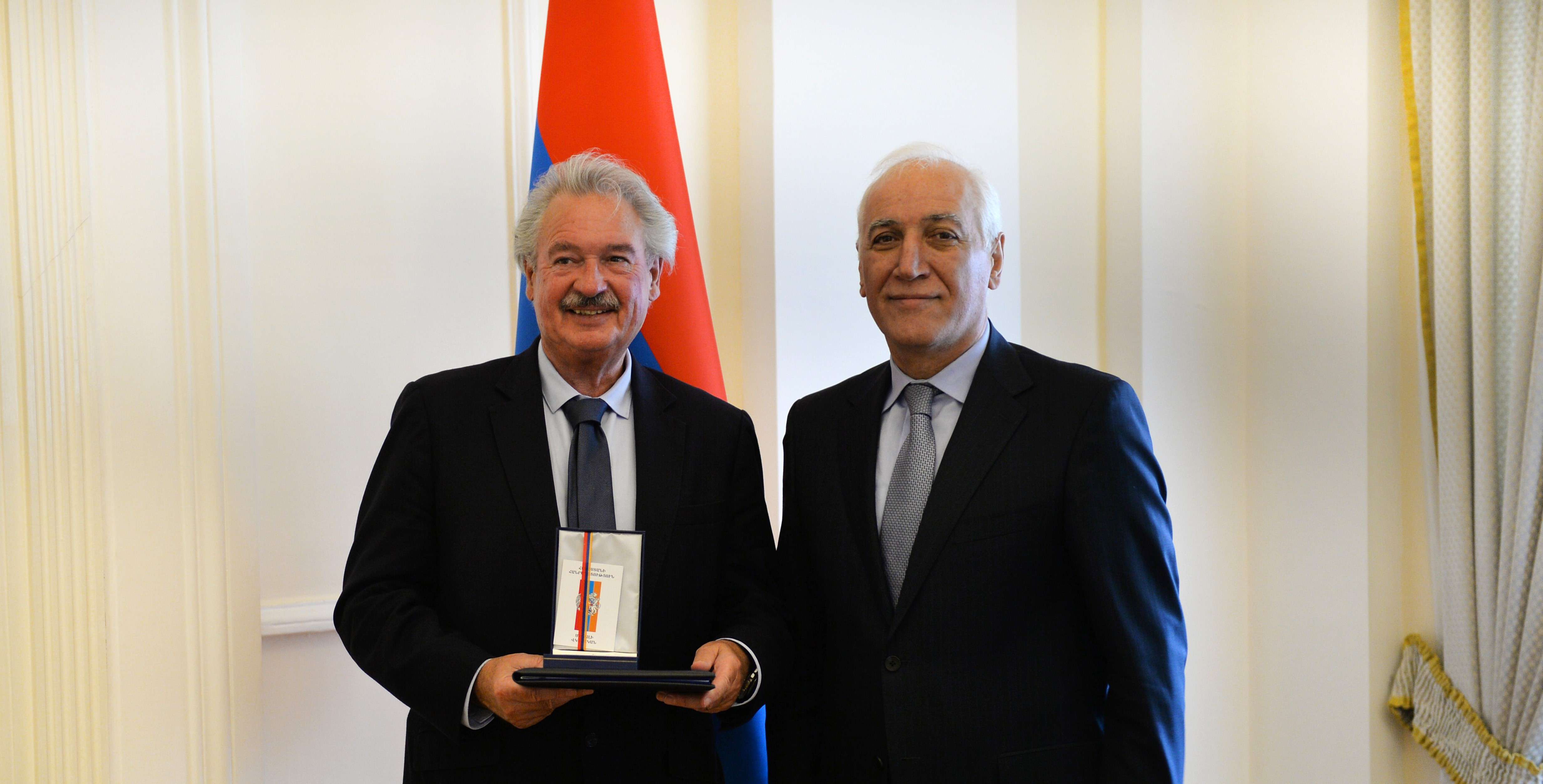 The President of the Republic, Vahagn Khachaturyan, received the delegation led by Jean Asselborn, Minister of Foreign and European Affairs of the Grand Duchy of Luxembourg.
Welcoming the minister and members of the delegation, Vahagn Khachaturyan noted, "The relations between our two countries are at a fairly high level and are undergoing dynamic development, as a result of which we have a friendly country in the European Union, which is with us in these difficult conditions, appreciates the policy pursued by our country, the values adopted by our country, which are based on democratic principles. Where the establishment of democratic institutions prevails. We don't imagine our future any other way. Thirty years ago, when independent Armenia was declared after the collapse of the Soviet Union, we took that direction at the same time. After certain deviations, we are now moving in that direction. I am sure our cooperation will also contribute to establishing those democratic institutions in Armenia."
Expressing his gratitude for the reception, Jean Asselborn emphasized that he was pleased about the opportunity to visit Armenia. "I was in Armenia in 2018, and during this visit, due to meetings with the Prime Minister, the Minister of Foreign Affairs, and public sector representatives, I can say that the changes made during these years are noticeable."
During the meeting, the steps and programs aimed at promoting cooperation both bilaterally and within the framework of the European Union were discussed.
Reference was also made to regional problems, the urgent need to unblock the Lachin humanitarian corridor, and the importance of solving existing problems through peaceful, negotiated means. President Vahagn Khachaturyan emphasized that Armenia's position is unequivocal regarding establishing stable and lasting peace in the South Caucasus and neighborly relations with its neighbors.
At the end of the meeting, President Vahagn Khachaturyan awarded Jean Asselborn, Minister of Foreign and European Affairs of the Grand Duchy of Luxembourg, with the "Mkhitar Gosh" medal for his significant contribution to the strengthening of friendly ties between Armenia and Luxembourg and the protection of universal values.
Follow us on Telegram
Similar materials