Thursday, 23 March 2023
USD385.33
EUR410.78
RUB4.83
Ararat Mirzoyan met with the US co-chair of the OSCE Minsk Group, Louis Bono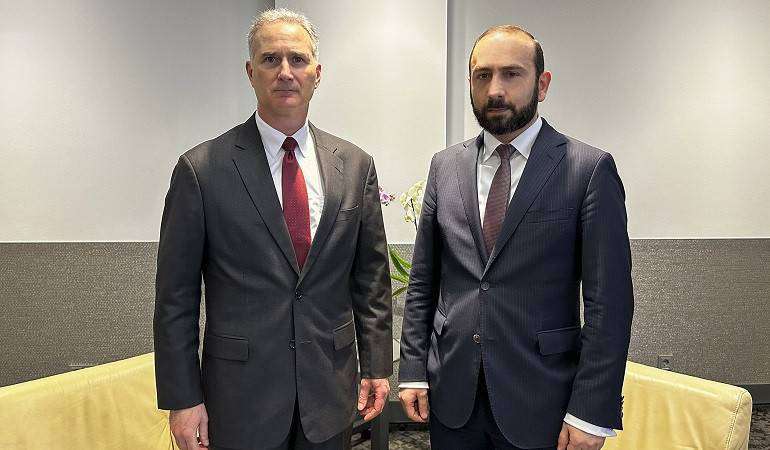 On February 18, within the framework of the Munich Security Forum, RA Foreign Minister Ararat Mirzoyan met with Senior Advisor on Caucasus Negotiations, US Co-Chair of the OSCE Minsk Group, Louis Bono.
Ararat Mirzoyan congratulated and wished Luis Bono success in his critical mission.
During the meeting, issues related to regional security were discussed.
The interlocutors discussed the latest developments in the normalization process of Armenia-Azerbaijan relations. Minister Mirzoyan presented to the interlocutor the latest proposals of the Armenian side regarding normalizing ties with Azerbaijan.
Reference was made to the humanitarian crisis in Nagorno-Karabakh due to Azerbaijan's blockade of the Lachin Corridor.
The Foreign Minister emphasized that Azerbaijan's policy of subjecting Nagorno-Karabakh to ethnic cleansing, continuous provocations, and ambitions for the sovereign territory of Armenia undermine the efforts of the international community and the Armenian side aimed at establishing peace in the region. The necessity of creating a global mechanism for discussing the rights and security guarantees of the people of Nagorno-Karabakh was emphasized.
Follow us on Telegram
Similar materials