Wednesday, 29 March 2023
USD385.67
EUR414.14
RUB4.89
"Do you know what causes fear in Azerbaijan's discourse: the politics of revenge?" prime minister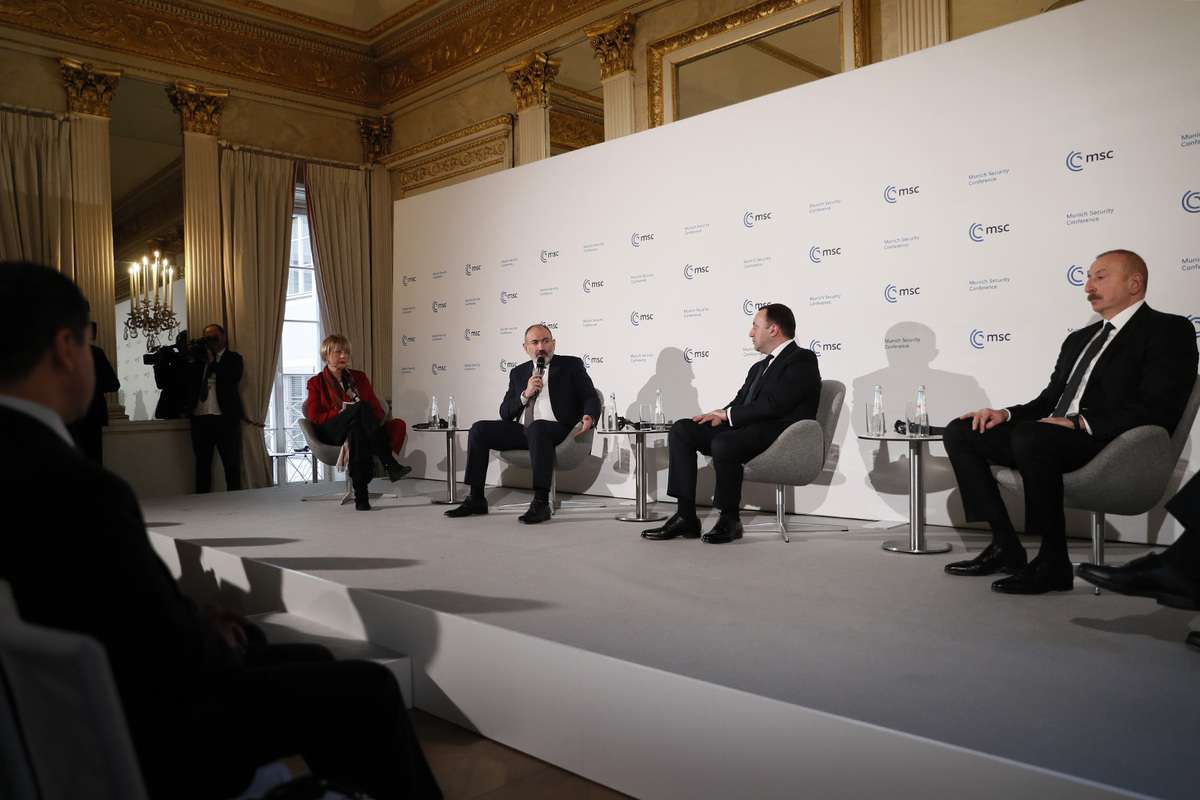 Prime Minister Nikol Pashinyan took part in the panel discussion on South Caucasus issues within the framework of the Munich conference: "Move the mountains? "Building security in the South Caucasus." Georgian Prime Minister Irakli Garibashvili, Azerbaijani President Ilham Aliyev, and OSCE Secretary General Helga Schmidt also participated in the discussion.
Below are the questions and answers addressed to Prime Minister Pashinyan by the moderator of the discussion.
Question - Mr. Prime Minister, I would like to ask you to comment on the consequences of Russia's war against Ukraine on your country.
Prime Minister Nikol Pashinyan - Thank you. Thank you for organizing this format. I agree this is a historihistoricg, but it is importaessentialerstand the context of the history that is made at this moment because we can have different results or consequences, and we should pursue a result. This is our approach.
As for your question, global instability cannot positively impact our regional situation because you know that for a long time now, all international attention has been understandably focused on Ukraine, which creates new risks for our region. Our area must also receive international attention because there are many risks.
What is our approach? We remain committed to our democratic reform agenda because we believe that democratic reforms, the development of democratic institutions, the rule of law, human rights, and an independent judiciary will improve the situation around our region. This benefits the entire area and is very important for us in doing our part.
Question - Mr. Pashinyan, you are now also helping Turkey with this terrible earthquake. Do you think there are prospects for improving relations between Armenia and Turkey? Will this dreadful disaster be an occasion for a change in your relationship?
Prime Minister Nikol Pashinyan - Thank you. We had only humanitarian motives behind the decision to send humanitarian aid and rescuers to Turkey because millions of people in our neighborhood were suffering. Still, during this time, we witnessed a very positive reaction from the Turkish government, and if this move has political consequences, it will be even better. But our initial motive was purely humanitarian. As we stated, we are ready to provide as much humanitarian aid as our capabilities allow, and we are prepared to do it.
As for political dialogue before the earthquake, we had already established a political dialogue through special representatives, and that conversation is critical. I mean creating an appropriate atmosphere in which these decisions were made. And the possibilities of making political decisions in the context of this humanitarian dialogue will be even higher. We are ready to move forward, and the establishment of diplomatic relations with Turkey and the opening of our border will have a very positive effect not only in terms of our regional situation but also in terms of the international situation.
Question - Now, I want to return to the question that President Aliyev alluded to at the beginning. We are talking about a war that started two years ago, and now we see a critical situation. We are not conducting negotiations here, but the international community is concerned about the humanitarian crisis, and we, like everyone else, follow the humanitarian crisis in Turkey, so we follow the existing problem there. From the outside, we see that Lachin's corridor is blocked. Mr. Prime Minister, I would like you to discuss the efforts to strengthen confidence. Of course, we would like to see a decrease in tension through small steps that will bring us closer to resolving this conflict.
Prime Minister Nikol Pashinyan - Thank you. You are right. Lachin Corridor has been blocked for 70 days. Unfortunately, there is now a humanitarian crisis in Nagorno-Karabakh, as well as an energy crisis, because the electricity supply to Nagorno-Karabakh is suspended, the gas supply is also stopped, and we have counted that the gas supply has been arrested at least ten times in the last 70 days, and this is a problem that deserves attention. Our position is as follows. In the trilateral statement of November 9, 2020, we have particular points regarding the Lachin Corridor. According to the current report, it is the responsibility of Azerbaijan and Russian peacekeepers to keep the Lachin Corridor open. Still, now, unfortunately, we have a completely different situation. International attention should be focused on this situation because we fear that the continuation of this situation may cause irreversible humanitarian consequences for the Armenians of Nagorno-Karabakh.
Question - As I said, we are not conducting negotiations here, but I would like to allow Prime Minister Pashinyan to respond to President Aliyev.
Prime Minister Nikol Pashinyan - Thank you. As for Nagorno Karabakh, the president mentioned the tripartite declaration, and Nagorno Karabakh is present in that declaration. The signature of the President of Azerbaijan is current under this document.
And we have the Lachin Corridor, which was supposed to operate freely. By the way, according to that tripartite declaration, the Lachin Corridor was supposed to be outside the control of Azerbaijan, and this was according to the signature of the President of Azerbaijan. Recently, a group of Armenian children from Nagorno-Karabakh tried to travel through the Lachin Corridor and were stopped. Some masked Azerbaijanis broke into the bus, where the children were screaming. This was the last attempt of Nagorno-Karabakh Armenians to move freely through the Lachin Corridor.
President Aliyev mentioned the destroyed mosques. I want to note that in 2017, several mosques were demolished in Azerbaijan to build new roads. By the way, during the Soviet years, 1560 mosques were destroyed in Azerbaijan, a common thing for the Soviet Union. Churches and mosques were also destroyed in Armenia. You know, the Armenians of Nagorno-Karabakh should not pay the debt of the Soviet years. It is a very dangerous speech because I am afraid Azerbaijan is trying to give a religious context to this situation. It is hazardous. There is no religious context in this conflict.
And by the way, we have a Muslim minority in our country and a functioning mosque; this is the reality. Do you know what causes fear in Azerbaijan's speech? His rhetoric creates the impression, and perhaps it is, that Azerbaijan has adopted a policy of revenge. This may be Azerbaijan's policy. But as mentioned, we have a very complicated history, and I just said, yes, maybe this is a historic meeting, but for what purpose do we want to use it? To stir up intolerance, hatred, and aggressive rhetoric in our region, or on the contrary, to use this platform to improve the situation?
This platform should be used with constructive intentions. Of course, we can now tell many stories about hostility, but what is the role of leaders: to deepen that enmity or to use our opportunities, our mandates? I am proud that our Government, even after the catastrophic war, was able to hold free, democratic elections in our country, which were recognized by the whole world as free and democratic, transparent and competitive. And as I said, from our point of view, the solution is a democracy, the answer is transparency, the key is dialogue, and the solution is respect for all countries. And we are ready to work in that direction. Thank you.
Question - Mr. Prime Minister, you have mentioned several times that the CSTO could be more effective at the moment, and the question is raised that Armenia can leave it. I would like to comment.
Prime Minister Nikol Pashinyan - We have specific concerns regarding CSTO, which have been public. We have raised these issues with our colleagues and made them public, but the problems remain. We are working towards finding solutions to those questions and concerns.
Follow us on Telegram
Similar materials