Sunday, 5 February 2023
USD394.25
EUR422.69
RUB5.38
"Estonia and Armenia were the pioneers on the path to gaining independence." President of RA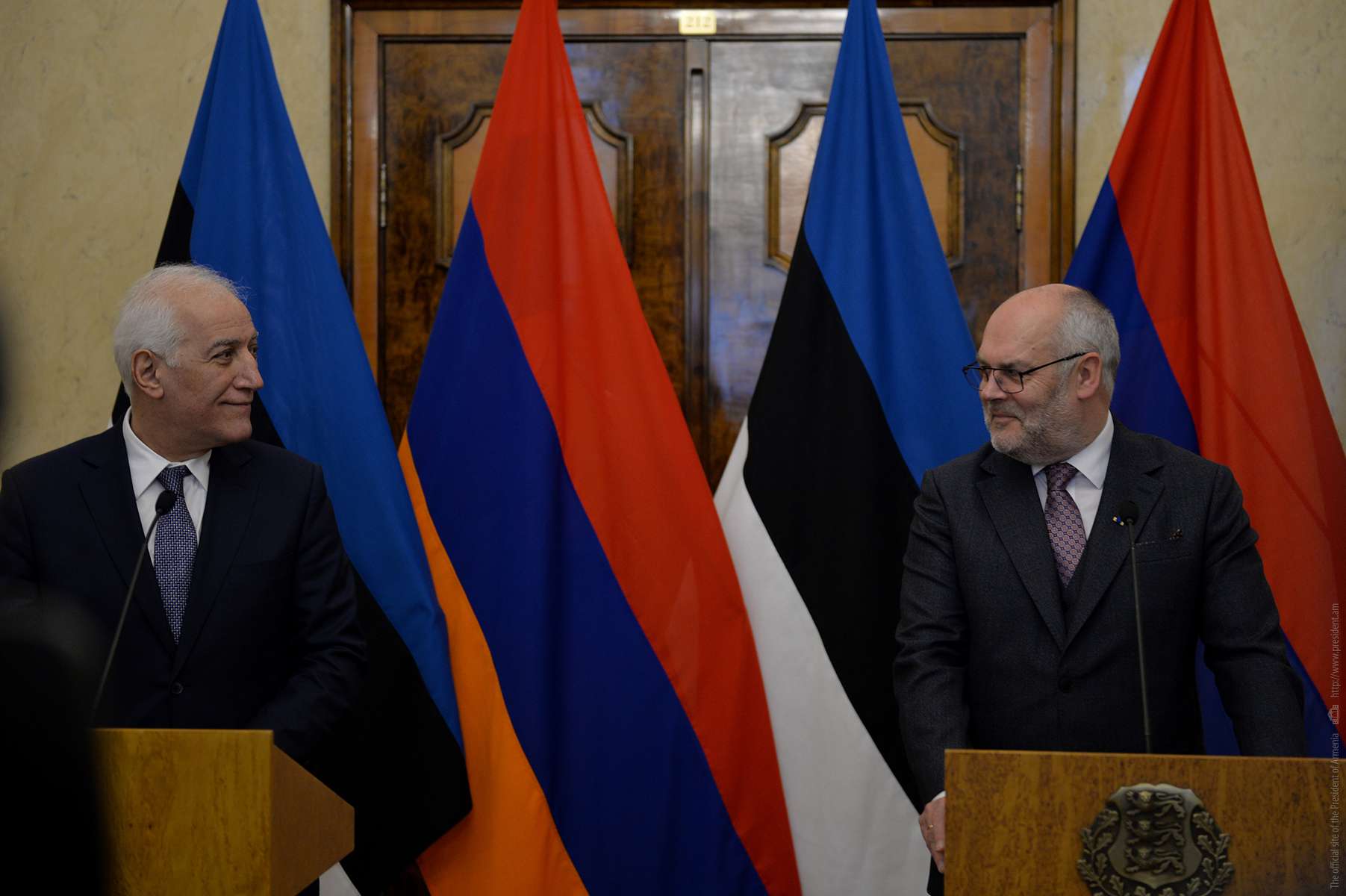 The President of Armenia, Vahagn Khachaturyan, and the President of Estonia, Alar Karis, summarized the results of the meetings held at the residence of the President of Estonia with statements for mass media representatives. Vahagn Khachaturyan sincerely thanked President Karis for the invitation and warm hospitality.
"I am also grateful for the exchange of ideas in a sincere and friendly atmosphere, discussions on important issues, and mutual understanding to further deepen our cooperation in all areas of mutual interest.
Last year was notable for Armenian-Estonian relations. The 30th anniversary of the establishment of diplomatic ties was completed. My memories of what happened 30 years ago left a great impression. As I mentioned during our meeting, the Baltic countries, including Estonia and Armenia, were the pioneers in gaining their independence during the Soviet Union. At that time there were also informal relations; after that, when we became independent, our links took on a formal nature and had their logical development.
High-level visits between our countries testify to the continuity of our relations anchored on the deep centuries, the identical value system, and the determination to expand bilateral cooperation further. Armenia always attaches importance to the continuous development and strengthening of relations with Estonia, for which all prerequisites are present.
Today, President Karis and I had pretty rich discussions. In an atmosphere of mutual understanding, we thoroughly discussed the current state and prospects of Armenian-Estonian relations and a wide range of agenda issues related to bilateral friendly ties. We reaffirmed our mutual willingness to deepen interstate relations. We also discussed Armenia's efforts to establish lasting peace in the region.
I've referred to the Armenia-EU partnership agenda and the programs implemented within its framework. I highly appreciate the existing cooperation between our two countries in both bilateral and multilateral formats, including in the context of the Armenia-EU partnership, and Estonia's support for developing these relations, for which we are grateful.
Concluding my speech, Mr. President, I once again thank the Armenian delegation for the warm welcome and reaffirm my willingness, as the President of the Republic of Armenia, to continue efforts to expand cooperation between Armenia and Estonia. I am sure the discussed issues will have their results, giving new quality and substance to the Armenian-Estonian relations."
Follow us on Telegram
Similar materials