Wednesday, 8 February 2023
USD393.83
EUR418.47
RUB5.32
We are two nations, but one civilization, Alain Simonyan to the Speaker of the National Assembly of France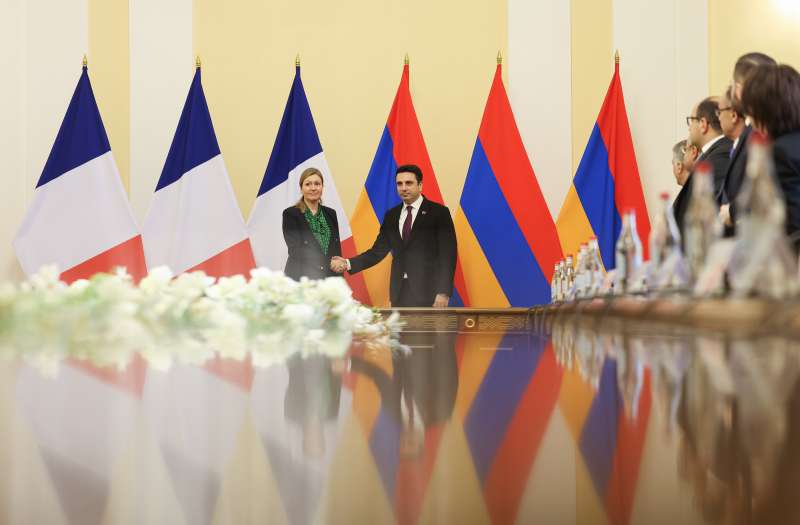 On January 13, RA NA Speaker Alen Simonyan received the delegation led by the Speaker of the French National Assembly, Yael Brown-Pivet.
The meeting started with a private conversation between the Speaker of the National Assembly of Armenia and the Speaker of the National Assembly of France, followed by an extended discussion.
Welcoming the guests, the Speaker of the RA National Assembly noted that Yael Braun-Pivet is the first Speaker of the French National Assembly to visit Armenia, and the visit can be considered historic.
"We are two nations but one civilization. Our relations are friendly and warm; France is a dear country for our country and citizens," said Alen Simonyan.
The Armenian side highly appreciated the role of France in the solidarity and support shown to democratic Armenia and the Armenian people against the bellicose policies and aggressive actions of Azerbaijan and its ally Turkey.
Speaking about post-war Artsakh and the Lachin crisis, Alen Simonyan expressed gratitude for supporting our country in solving these problems. He mentioned the resolutions the French National Assembly adopted after the 44-day war, particularly the adoption of the resolution proposing sanctions against Azerbaijan. The parties discussed in detail the current situation in Artsakh, considering the violation of the rights of 120,000 Armenians by the Azerbaijani side as unacceptable.
Thoughts were exchanged on the close cooperation between the two countries' parliaments in the development of Armenian-French interstate relations, emphasizing the significant contribution of friendship groups formed in the parliaments of Armenia and France in the development of interparliamentary relations.
Expressing her gratitude for the invitation, the Speaker of the French Parliament noted that the Armenian people can always consider France a reliable friend. "We are on the side of the Armenian people yesterday, today, and always," she noted, adding that the Agreement to be signed today on cooperation between the National Assemblies of the two countries will give an institutional character and further deepen the already existing friendly and business relations at all levels.
At the end of the meeting, the presidents of the two countries' parliaments signed an agreement expanding further cooperation, followed by a joint press conference. NA presidents concluded the session with a symbolic tree planting.
Follow us on Telegram
Similar materials