Monday, 5 December 2022
USD394.69
EUR409.81
RUB6.02
The RA-EU agreement is one of the pillars of the government's fundamental reforms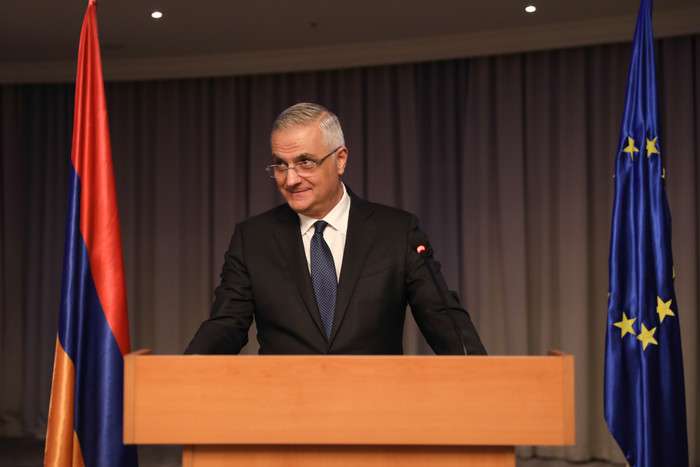 Deputy Prime Minister Mher Grigoryan participated in the event dedicated to the 5th anniversary of the signing of the RA-EU Comprehensive and Extended Partnership Agreement, organized by the EU delegation in Armenia. And Michael Siebert, Managing Director of OSCE Affairs. During the event, the Deputy Prime Minister made a speech in which he specifically said:
"Please let me, on behalf of the Government and myself, congratulate all of us on the fifth anniversary of the signing of the Comprehensive and Extended Partnership Agreement signed in 2017 between the Republic of Armenia and the European Union. Since its signing, the Agreement has been one of the pillars of the Government's fundamental reforms, contributing to the development of democratic institutions based on European best practices, the formation of an inclusive and competitive economy, and the continuous development of human capital.
We are sure that the effective implementation of the agreement will significantly improve the quality of life of our citizens, as it is related to all the key directions necessary for the development of our state and our citizens. It should be noted that during these five years, the Government has taken all the measures needed to ensure the proper and timely implementation of the document. An interdepartmental committee was established under my leadership to coordinate and monitor the process, and a complete roadmap for implementing the Comprehensive and Enhanced Partnership Agreement was developed.
I want to highlight a few key strategies successfully developed and implemented under our partnership with CEPA. They are the strategies of Human Rights Protection, Judiciary Reforms, and Anti-Corruption.
Let me again congratulate all of us and emphasize that the full and effective implementation of the Agreement is possible only through our combined efforts. Hence, the Government remains open to constructive discussions and cooperation with all interested parties in favor of developing friendly relations between Armenia and the European Union and our welfare of citizens".
Similar materials