Saturday, 26 November 2022
USD394.38
EUR403.03
RUB6.14
The Prime Minister presented the investment opportunities of Armenia to Ukrainian-Armenian business people.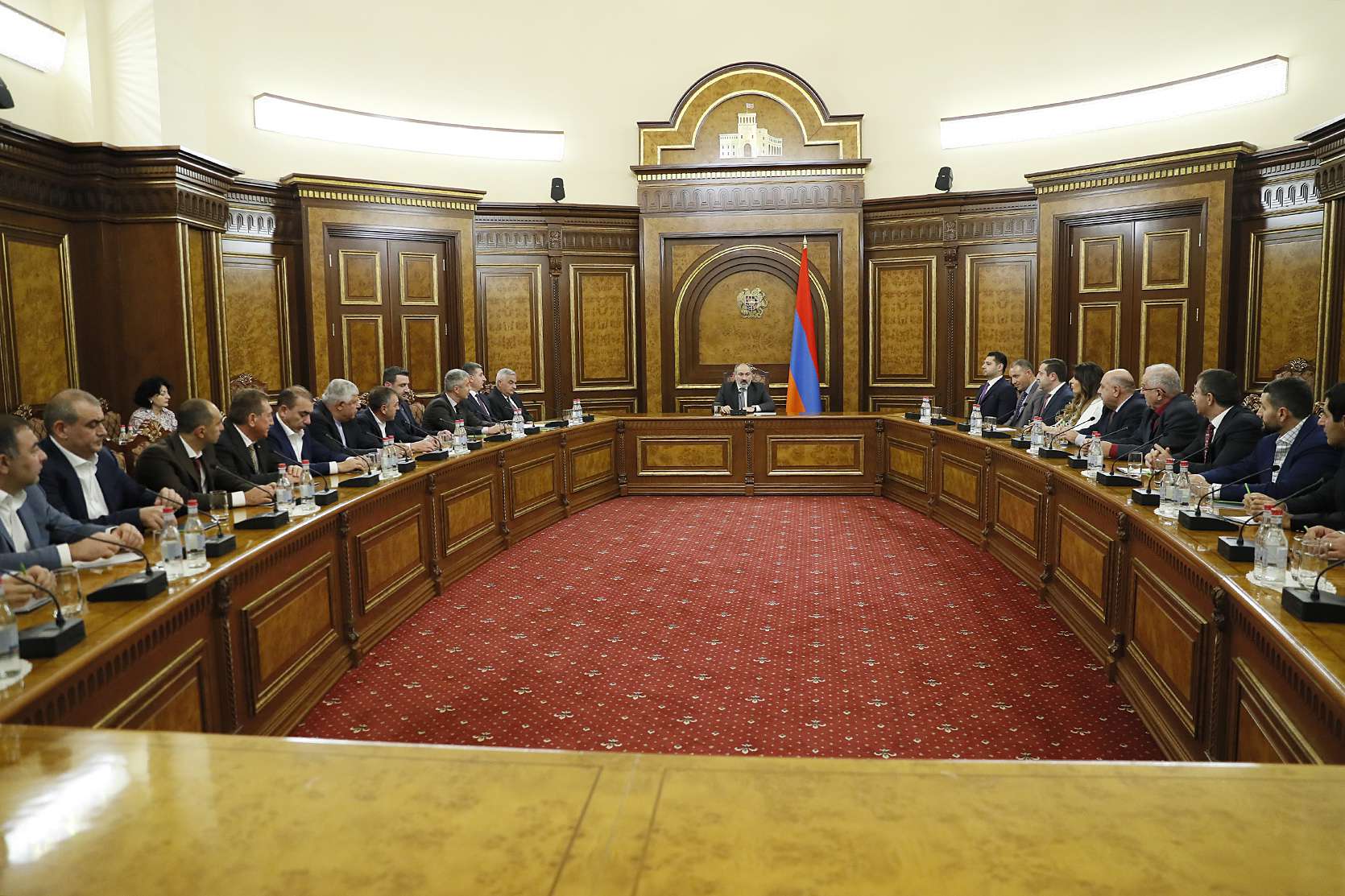 Prime Minister Nikol Pashinyan received a group of Ukrainian-Armenian businessmen. Deputy Prime Ministers Mher Grigoryan, Hambardzum Matevosyan, Minister of Territorial Administration and Infrastructures Gnel Sanosyan, Minister of Economy Vahan Kerobyan, General Director of the Investment Support Center Levon Ohanesyan, as well as Armenian Ambassador Extraordinary and Plenipotentiary to Ukraine Vladimir Karapetyan also participated in the meeting.
Welcoming the attendees, the Prime Minister expressed hope that as a result of today's discussion, the presence of business people in the Republic of Armenia will become more practical. "You probably know that, fortunately, unprecedentedly high economic results were recorded in Armenia this year, but that does not mean that we do not have problems. The most important of the issues of our financial nature is what we have talked about several times. Today, unfortunately, we cannot fully implement our capital expenditure plans for a simple reason: the capabilities of the private sector in Armenia are not developed enough for them to be able, so to speak, to realize all the potential that we offer. We are discussing the construction of roads, schools, kindergartens, and other state facilities, and I would like to let you know about this.
Next, of course, we are in a very complicated geopolitical and international situation, the whole world. We see that we have threats and challenges there, but on the other hand, we also have opportunities, including investment ones. I want to draw your attention to that fact. Which directions are more prospective and exciting for you; you can decide better.
I can only make a record, which you may have heard about, that the Republic of Armenia ranks 11th in the world in the World Index of Economic Freedom published just two months ago, which means that among 165 countries in the world, Armenia ranks 11th in terms of freedom of investment and economic activity. is on the position. What does this mean? This means that there are no bans or restrictions on economic activity in Armenia, which means that no one is forbidden to export or import anything. Of course, the prohibitions or restrictions apply only to what applies to everyone. I mean specific legal regulations and so on. Of course, in the case of Armenia, there are also certain logistical complications, but everyone faces difficulties, and there is no alternative approach," said Nikol Pashinyan.
The Prime Minister informed that the Investment Support Center operates under the Ministry of Economy, whose main task is to support business people and entrepreneurs interested in investing in Armenia. "And we are ready to listen to your opinions, impressions, and maybe also about some obstacles or difficulties you have faced in Armenia. Of course, it will be interesting to know about such cases, and in all cases, when we see that solutions are possible, we will provide solutions. There may also be objective difficulties, the solution of which is not realistic, but in any case, having complete information is very important for us to take into account in further activities," said Nikol Pashinyan.
Then the Prime Minister and other members of the government participating in the meeting answered many questions of interest to the business people regarding the reforms implemented in the direction of creating a favorable environment for business, etc.
The Prime Minister instructed the heads of the responsible departments to be in constant contact with the business people and provide assistance in effectively implementing the programs within the framework of the government's tools.
Similar materials