Saturday, 3 December 2022
USD394.53
EUR406.39
RUB6.03
Armenia highly appreciates Georgia's interest in maintaining peace and stability in the region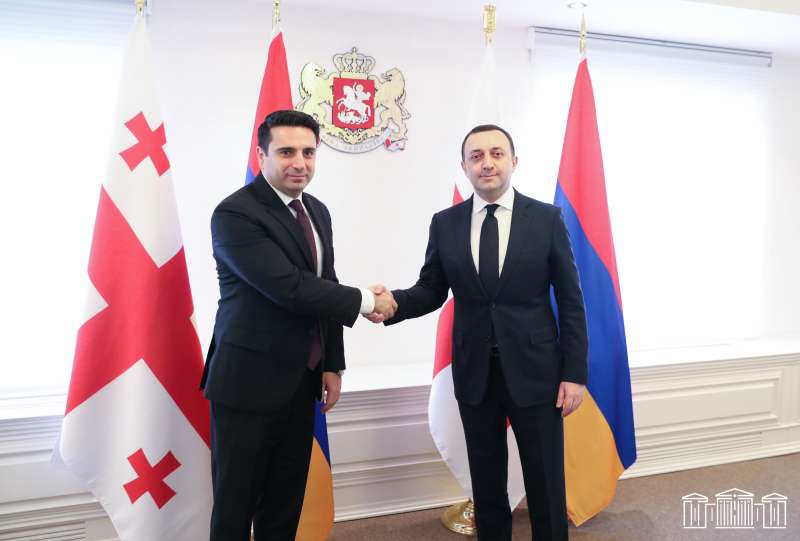 Prime Minister of Georgia Irakli Gharibashvili received the delegation led by RA NA Speaker Alen Simonyan, who is on an official visit to Georgia. The parties congratulated each other on the 30th anniversary of establishing diplomatic relations, stressing that a shared history connects the two peoples.
The Speaker of the RA National Assembly noted that Armenia is intensely interested in strengthening regional security and stability, so he highly appreciates Georgia's interest in maintaining peace and stability in the region.
Alen Simonyan also emphasized that Azerbaijan, continuing its expansionist policy, launched a large-scale attack on the sovereignty and territorial integrity of the Republic of Armenia on September 13.
Turning to the issue of Artsakh, the Speaker of the RA National Assembly noted that the issue of guaranteeing the rights and freedoms of the Armenians of Nagorno-Karabakh and the status of Nagorno-Karabakh remains paramount.
The parties discussed the prospects of bilateral cooperation aimed at regional security. Georgian Prime Minister Irakli Gharibashvili noted that he had a warm telephone conversation with Armenian Prime Minister Nikol Pashinyan yesterday and stated that Armenian-Georgian relations are now at a higher level than ever. According to him, this is evidenced by the frequency of high-level mutual visits and general efforts to seek peace.
Similar materials