Wednesday, 6 December 2023
USD400.39
EUR428.83
RUB4.24
We are interested in establishing a strategic partnership with Georgia. Alen Simonyan is on a two-day visit to Georgia.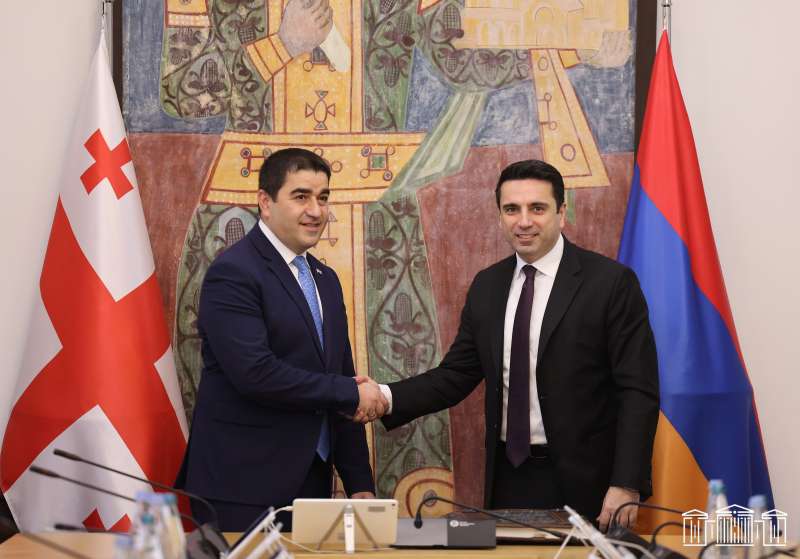 The delegation led by RA NA Speaker Alen Simonyan is on an official two-day visit to Georgia at the invitation of Georgian Parliament Speaker Shalva Papuashvili.
After a private conversation with the Speaker of the Parliament of Georgia, Shalva Papuashvili, an extended meeting took place, during which the partners exchanged ideas on the agenda's priorities.
RA NA Speaker thanked his colleague for the invitation and warm welcome. "We attach great importance to our relations with Georgia, and it is no coincidence that the Armenian government's 2021-2026 development of neighborly relations with Georgia is a priority in the action plan. We are interested in establishing a strategic partnership with Georgia," said Alen Simonyan.
Shalva Papuashvili expressed confidence that the strengthening of continuous dialogue and cooperation between the two countries is an additional stimulus for regional security and stability.
Speaking of inter-parliamentary relations, the parties referred to the importance of the memorandums of cooperation to be signed between the standing committees on foreign relations and cultural affairs of the parliaments within the framework of the visit.
The role of friendly groups operating in both parliaments was also emphasized, emphasizing that the vice presidents led them. RA NA Speaker noted that the platform of educational and cultural cooperation is a good incentive for developing Armenian studies centers or chairs in Georgian universities and Georgian language chairs in higher educational institutions of Armenia.
The parties discussed issues related to regional security. Alen Simonyan noted that Armenia is interested in strengthening regional security and stability. He added that the high level of relations between Armenia and Georgia is one of the critical factors in ensuring security in the South Caucasus and highly appreciated the interest of the Georgian side in maintaining peace and stability in the region.
At the meeting, extensive reference was made to the invasion of the sovereign territory of Armenia by the Azerbaijani military and its consequences.
The parties discussed working issues related to the Armenian community of Georgia and upcoming joint projects.
Follow us on Telegram
Similar materials