Sunday, 11 June 2023
USD383.31
EUR409.08
RUB4.55
Stop Aliyev, or one day he and his "godfather" Erdogan will eat you too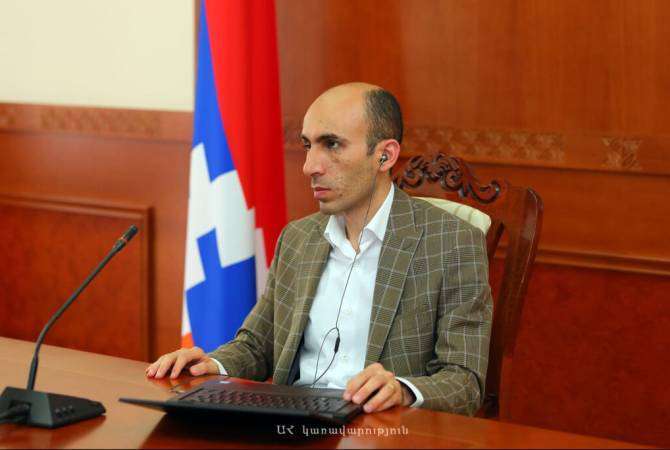 Artak Beglaryan, the adviser to the Minister of State of Artsakh, wrote on his Facebook page:
"The blockade of Artsakh is also a consequence of the impunity of Azerbaijan's occupation of Parukh and Karaglukh. Today marks the first anniversary of Azerbaijan's work of Parukh and Karagalkh.
It was the regular aggression and ceasefire violation of the Aliyev dictatorial regime against Artsakh since the signing of the trilateral cease-fire declaration on November 9, 2020, causing human and territorial losses to Artsakh.
Although the international community, including the Russian side, as the party responsible for the peacekeeping mission in the region, clearly called on Azerbaijan to return to the line of contact defined by the tripartite declaration of November 9, Azerbaijan ignored the calls and instead strengthened its positions. By turning a blind eye and remaining silent on this offense in the subsequent period, the international community finally signaled to Azerbaijan that they were free to commit new crimes.
Acting based on the internationally "granted" impunity for previous crimes (mainly the crime against humanity in the 2020 war, then the occupations of Hin Tagher and Khtsaberd and Parukh and Karaglukh), the Aliyev regime committed its following crimes, including the August aggression against Artsakh, the September aggression against Armenia and now the 103-day blockade of Artsakh. The embargo has become its "perfected" tactic, carrying out a hybrid war and terrorism against the people of Artsakh.
So the pattern is clear. With his crimes, Aliyev tests the international community's reaction, faces criticism towards him, remains silent for a while, and then commits a more aggressive crime to once again check the red lines and reactions and again meet possible harsh international responses.
As long as the Aliyev regime does not pay dearly for committing crimes and crossing red lines, they will never stop and strive step by step to realize their ultimate goal, genocide. So, stop Aliyev on his criminal march. Otherwise, one day, he and his "godfather" Erdogan will eat you too."
Follow us on Telegram
Similar materials